Spider Baby Review – The Late Lon Chaney, Jr. Is All Sweet, Sweaty Cuddles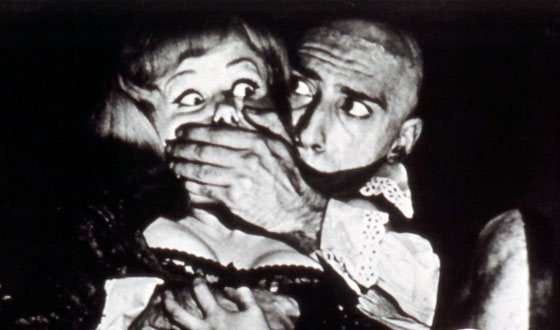 Spider Baby Review – The Late Lon Chaney, Jr. Is All Sweet, Sweaty Cuddles" width="560″/>

Cursed with a dozen different titles, Spider Baby has been known variously as Cannibal Orgy, The Maddest Story Ever Told and even the evocative, The Liver Eaters. It was made for a mere $65,000 in 1964, then when the investors lost all their money in real estate, it sat on the shelf until 1968 when it was finally dumped into distribution. But by then exhibitors wanted horror movies in color so the B&W Spider Baby was banished to drive-in double features, doomed to wither in obscurity like a once-great silent film actor passing away from liver failure in a water-stained SRO.
But Spider Baby never dies. Somehow each generation discovers this good-natured creep show afresh, with the more freakish and mentally unstable among them adopting it as a personal inspiration. And, despite the cannibalism, gruesome killings, the cat-eating and the hideous monsters locked up in the basement, it is ultimately a family film, perfect for Christmas viewing. Bruno (Lon Chaney) is the chauffer and the last servant left on the crumbling, overgrown Merrye estate. He made a promise to the patriarch, Titus Merrye, to take care of the children, all of whom suffer from the family's genetic disorder: Merrye Syndrome. It's a yucky disease that causes their minds to rot as they age, becoming younger and more infantile the older they get until, in middle-age, they regress to a pre-human, cannibal state.
As cousin Peter Howe says, "Incredible…but true!"
Bruno's charges include Ralph, the oldest son, who wears soiled Buster Brown suits and is a gibbering lunatic; oldest daughter, Virginia, who loves nothing more than playing "Spider" with unsuspecting house guests by throwing a net over them then "stinging" them with rusty carving knives; and the youngest (and sanest) Elizabeth, who prances about tattling on Virginia's latest homicidal antics and wagging her finger at those who break the house rules. Uncle Ned and Aunt Martha live in the basement and, well, the less said about them the better. They like to eat people.
Shot in TV-simple black-and-white, with flat lighting and clean edits, Spider Baby concerns itself with a visit to the estate by cousin Peter, his girlfriend Ann, and their lawyer and his secretary. Moved by the plight of the Merrye children (and by the thought of inheriting the enormous house and its surrounding property), Peter and Ann want to become the guardians of Ralph, Virginia and Elizabeth. Needless to say, this is a terrible idea.
The first film for exploitation king Jack Hill (Switchblade Sisters, Coffy , Foxy Brown ), Spider Baby belongs to its cast. The long-suffering Bruno is played by Lon Chaney, Jr. who had less than ten years left in this life before dying of liver failure. Once famous for playing a host of monsters, most notably the Wolf Man, he had fallen on hard times by '64 and was drinking like there was no tomorrow because, for him, there wasn't. He abstained for the shoot of Spider Baby, which is why his hands are shaking on camera. That's not age, that's the DT's. He agreed to do the film for a mere $2,500, terrified that the role was going to be offered to his rival, John Carradine. His performance is all sweet, sweaty cuddles, and it would be cheap at ten times the price, especially considering that he sang (or, rather, raved) the theme song for free.
Sid Haig, who memorably played tall, bald heavies in exploitation films all through the '70s before making a comeback with parts in The Devil's Rejects , Jackie Brown and House of 1000 Corpses, is the adorably psychopathic Ralph, and Cousin Peter is played with a Lynchian Father Knows Best jauntiness by Quinn Redeker who would not only have a long career on Days of Our Lives but who would also share an Oscar for writing The Deer Hunter . Future Marlon Brando girlfriend, Jill Banner, plays Virginia and she and her onscreen sister Elizabeth (veteran TV kid actor, Beverly Washburn) ooze a greasy sensuality, like Gothic Lolitas with blood-stained faces and gore crusted nails. Even a minor role like the motorcycle messenger who delivers a letter in the opening scene turns out to be someone of note: Mantan Moreland, one of the most recognizable African-Americans in film throughout the '40s and '50s.
Spider Baby is a transitional film, a big step away from the monster movies that had filled theaters previously, and a big step towards the kinky, gory horror films that would come later. It's firmly on the side of its monsters, making sure the audience knows that while they may kill a neighborhood child or two they really do love each other, and in the end it's family values that count for everything.
Spider Baby is available streamed online on AMC until September 2008.
Grady Hendrix is one of the founders and programmers of the New York Asian Film Festival. He writes about Asian film for Variety at Kaiju Shakedown and should have found something better to do with his life by now.
Read More