SciFi Screening Room Presents The Apple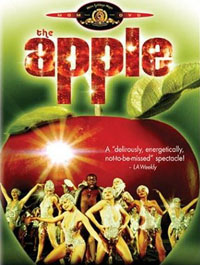 If you live in the New York City area, boogie on down to the Scifi Screening Room this Wednesday night for the classic dystopian musical, The Apple.
It's Xanadu meets George Orwell in this flamboyant Adam and Eve story set in the nightmarish future of 1994 (as imagined in 1980.) Expect to see Catherine Mary Stewart mutate into
a drug-fueled glam pop superstar (Hubba-hubba). If you like Phantom of the Paradise, but wished it had been made in Berlin by one-half of Golan-Globus, this
is the movie for you!
The show will be hosted by The SciFi Department's Kevin Maher and Raven Snook, providing trivia, prizes, drinking games, free glitter and a sing-a-long.
After the movie, the evening continues with Atomic X @ Beauty Bar (231 E. 14th Street.) Expect the DJ to be playing plenty of David Bowie, New York Dolls, and selections from The Apple soundtrack.
It all begins this Wednesday night, May 14, at 7PM at the Theater Under St. Mark's (94 St. Mark's Place).
And check out the Sci Fi Department's guide to The Apple:
Read about previous shows including HULK Night and KISS Night.
Read More