A Son's Insecurities Enhanced Stand by Me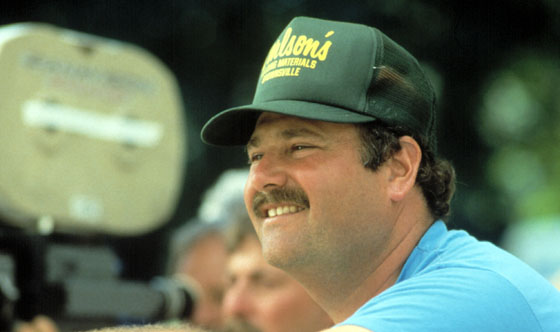 Director Rob Reiner was born in the Bronx to veteran comic genius Carl Reiner and his wife, singer-actress Estelle, and grew up in Beverly Hills. During his childhood, he was surrounded by showbiz personalities. "It wasn't glitzy, but there were always these brilliant people around, these really funny people," he said. His father's best friend was Mel Brooks, whom Reiner calls "the funniest person ever," and legends like Larry Gelbart, Neil Simon and Norman Lear were frequent visitors. "I didn't realize until I started visiting other people's houses that it wasn't quite as funny in other people's houses as it was in mine," said Reiner.
Reiner grew up with complexes common to sons overwhelmed by the popularity of a famous parent. Just before Stand by Me's release, he said, "Even though I am 39, I remember with great clarity my pre-teen problems with identification, trying to make a stand on my own in my struggles with my father, to a point where I could feel good about myself."
"When I was a kid, I was shy, incredibly shy," said Reiner. "I was
very introspective. So I was probably reacting against my father's
personality. I know it was difficult for me to feel that I had a place
in the house, because my father is so demonstrative, so much larger
than life. I couldn't figure out how I fit in there. When you're
little, you really can't compete. I don't think he quite understood how
I was as a person. He never thought I had a sense of humor, never
thought I was funny."
"When I was 19, I directed a production of Sartre's No Exit
at a little playhouse in Beverly Hills," said Reiner. "I'll never
forget it, because my father came backstage, looked me straight in the
eye and said, 'That was good. No bullshit.' It was the first time I'd
gotten that sort of validation from him."
When Reiner was first handed the script for Stand by Me,
nearly 20 years later, he was finally ready to reconcile himself with
his childhood complexes. "Initially, the story of four 12-year-old boys
who go off looking for a dead body struck me as a meandering tale in
which not much happened," he admitted. "The film only came into focus
after I made my own personal connection to it."
In order to better identify with the characters in the script,
Reiner took Stephen King's autobiographical tale and added a layer of
detail from his own childhood memories. "A lot of the little things
that happened in this film, the little rank-outs of their mothers and
'two for flinching' and 'pinky swear,' all these are things that I used
to do as a kid," Reiner said.
"I pinpointed the main focus of Stand by Me, and it was
basically rooted in my own ongoing personal struggle at the time. What
I came up with was this little boy who thinks little of himself, who
has a gift for writing, who is a creative person. Through the
encouragement of his best friend, he is able to start realizing himself
and liking himself, and going on to become a success. Then we folded in
this idea of the father not understanding the kid, which was alluded to
in the original novella by Stephen King, and that connected up with my
life story, which was the struggle I had when I was growing up with a
father who certainly loved me deeply, but never understood me."
"I'm starting to do work that reflects who I am," Reiner said at the
time. "Most of what I've done until now has been things that came from
what I learned at my father's knee. Spinal Tap , for instance, is satire, and my father was one of the great satirists of all time. With Stand by Me,
I'm making a movie my father would never begin to make. He'll
appreciate it, I think – I hope he loves it – but I don't think it's a
choice he would ever make. It's scary, because I don't know if I'm
going to get accepted this way."
Reiner wound up getting the approval he craved – Stand by Me
was a surprise hit, proving that he could be successful outside his
father's sphere of influence. "The tone of Stand by Me was so connected
to my own personality and what I felt was the kind of film I wanted to
do," Reiner said. "It was the seminal film for me that allowed me to
differentiate myself from my father."
Watch the DVD-enhanced version of Stand by Me on June 8.
For a complete schedule of this movie on AMC, click here.
To share you review of this movie, click here.
Sources:
Vernon Scott, "Rob Reiner Taps Pre-Teens as Heroes," Chicago Sun-Times, 7/4/86
"Interview with Rob Reiner," Playboy, 7/86
Stephen Holden, "At the Movies," New York Times, 8/8/86
Myra Forsberg, "Rob Reiner Applies the Human Touch," New York Times, 10/18/87
"Family Man's Making a Living in Movies," Los Angeles Herald-Examiner, 7/14/89
Robert Emery, The Directors – Take Two, TV Books, 2000

Stand by Me DVD: Director Commentary
Read More