Real Life Persecution Haunted the Stars of Escape From the Planet of the Apes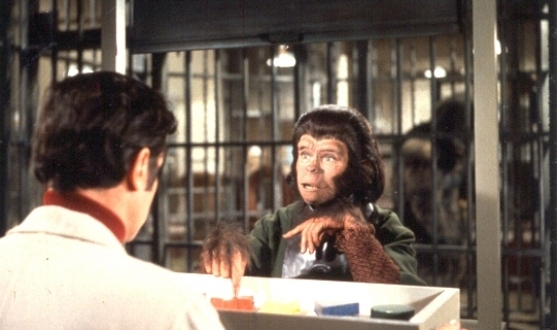 The actors beneath the makeup were not immune to the physical and political trials that time-traveling apes Cornelius, Zira, and Milo face among mankind in Escape From the Planet of the Apes. Kim Hunter, Roddy McDowall and Sal Mineo all suffered needless persecution that marred their Hollywood careers.
Hunter (who had already snared an Oscar for A Streetcar Named Desire back in '51) found herself blacklisted and unable to work during the McCarthy era because of her civil rights activism. In 1962, she testified before the New York Supreme Court with the hope of clearing the names of others similarly trampled on by the era's hysterical hunt for Communists, an experience which surely informed her work in three Apes films as the complex Dr. Zira.
Shortly after Escape, Roddy McDowall had his own unsavory
brush with the government when his home was raided in 1974. FBI agents
seized his entire film collection with the intention of uncovering
evidence of piracy and copyright infringement. McDowall cooperated
fully and was never charged, though he implicated friends (including Rock Hudson and Mel Torme) in the FBI's ongoing investigation.
However it's Sal Mineo who had the most unfortunate real-life parallel. In the film, Milo succumbs to
ape-on-ape violence early on, when the three time-traveling primates
are initially caged with common gorillas. His death surprised
audiences, reducing the Apes in the movie to just two. Several years
later, Mineo himself was the victim of a senseless stabbing that was
never solved, dying at 37.
By pitting its creatures against the human world, it couldn't help but hit close to home — maybe that's why most consider Escape From the Planet of the Apes to be the best Apes sequel by far.
Click here for the full schedule of this movie on AMC
Read More