DVDs This Week – Rambo, Grace Is Gone, and More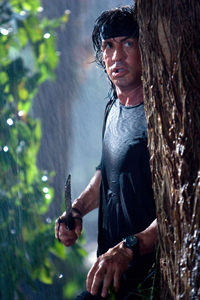 • Rambo is back, baby! Stallone's ex-Green Beret once again gets sucked into helping those in need, this time against Burmese soldiers. Stallone triple duties as star, co-writer, and director of the film, and though the plot is light, and the characterizations barely there, the film is a great return to basics for both the series, and Stallone. Also available this week is a Complete Collector's Set, so you can pick up all four Rambo films, newly remastered, with added commentary and other bonuses.
• John Cusack clearly feels strongly about the Iraq War, given his currently in theaters satire flick, War Inc., and Grace Is Gone now on DVD. Cusack stars as a man who's wife dies in the Iraq War; rather than tell his children that their mother Grace is gone, he decides to take them on a road-trip to a theme park. Though the plot sounds hokey, and it certainly turns out exactly how you think it does, Cusack only gets better as an actor with age, and this is one of his strongest performances to date.
• Paul Schrader ( American Gigolo ) wrote and directed The Walker ,
the "conclusion" to his Lonely Man trilogy, and stacked the deck with
an all-star cast, including Woody Harrelson, Kristin Scott Thomas,
Lauren Bacall, Ned Beatty, Lily Tomlin, Willem Dafoe, and more.
Harrelson stars as an escort (literally) to poltical wives in
Washington D.C. When a lobbyist turns up dead, Harrelson takes the
fall. Though the movie never quite gels towards the end, fans of
Schrader's work will find the writer/director in prime form for most of
the movie's running time.
• Cassandra's Dream marks Woody Allen's second foray into thriller territory, after the more successful Match Point .
This time, he forgoes any of his regular ladies, in lieu of Ewan
McGregor and Colin Farrell as brothers who get caught in a descending
spiral of corruption and greed. Like most of Allen's less successful
films, there's still a lot to like; and by once again taking himself
out of his beloved New York, Allen has found new ways to tell stories
that crackle, making this well worth picking up.
Read More