On DVD This Week – I'm Not There, Serial Mom and More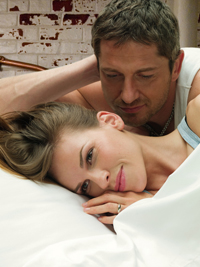 • An unintentionally creepy romantic comedy P.S. I Love You is saved by a grounded performance from multiple Oscar-winner Hillary Swank. Her perfect relationship is quite literally destroyed by hubby Gerard Butler's untimely death. Luckily, he's left her letters, recordings and more to help her move past his demise, and find a life all her own. The above average cast also includes Lisa Kudrow, Kathy Bates, and Buffy's James Marsters, in a decidedly less vamp-y role.
• On the opposite end of the spectrum is Over Her Dead Body , featuring desperate housewife Eva Longoria-Parker as a bridezilla who dies on her wedding day, only to return from beyond the grave to make sure her fiancée is never happy again. The film squanders the ample comic talents of Paul Rudd as Longoria Parker's living sweetie; but Rudd still manages to eke out some chemistry with his co-star, Lake Bell, as a psychic who can see Longoria Parker's ghost.
• Who would have thought the best cinematic interpretation of Bob Dylan would be played by Cate Blanchett? Director Todd Haynes took this chance when he cast six different actors as the marble-mouthed musician in I'm Not There . Though not every section is a home run, an all-star cast (which also includes Christian Bale, Heath Ledger, Richard Gere) and confident direction make this a must-watch.
• If you only watch one independent horror comedy about vagina dentata, make it Teeth . In a career making performance, Jess Weixler stars as a young
Christian girl promoting abstinence at her high school, when she makes a startling discovery. Teeth
takes the best of elements of horror, from dealing with burgeoning teen
sexuality, to a big, bloody finish, and mixes them up into something
completely fresh and new.
• One of John Water's more accessible films, Serial Mom
gets the re-mastered DVD treatment. Kathleen Turner stars as a suburban
housewife so obsessed with cleanliness, she starts murdering anyone who
doesn't conform to her vision of a perfect suburbia. By turns hilarious
and disturbing, Waters is in fine satirical form here, backed up by
a cast including Sam Waterson, Matthew Lillard, and Ricki Lake
as Turner's clueless family.
Read More