Henry Fonda and Harry Morgan Succumb to Mob Rule in The Ox-Bow Incident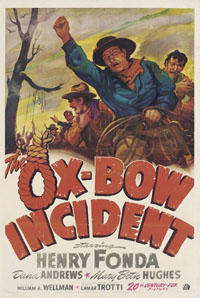 Whether you're talking a serious classic like High Noon , or a frothy good time like Young Guns , one of the key assumptions about the Western genre is that the characters who populated the Old West were fiercely independent folk, driven to eke out an existence where no one else could tell them what to do or how to think.
In every Western, we expect that silent stranger to arrive in town and take care of everything: In The Magnificent Seven, the gun fighters stand up against bandits to protect a small village. In The Outlaw Josey Wales , though the title character is driven by revenge, he's also the film's moral compass. These guys might be new in town, but they adhere to a certain code of honor that shies away not from killing — but from killing the wrong guy.
The Ox-Bow Incident is different, though. In other movies,
Art Croft (Harry Morgan) and Gil Carter
(Henry Fonda) would know better and stick to their guns. Here, they
just get caught up in hysteria. Croft and Carter join the vengeful
posse that takes off for Ox-Bow, rather than bear the suspicion that
they're rustlers simply because they're the new guys in town. The movie
up-ends our expectation of the genre, pointing out that even for the
heroes on horseback, it's difficult for cooler heads to prevail when
surrounded by anger and fear.
For a full schedule of The Ox-Bow Incident on AMC, click here.
To share your review of the movie, click here.
Read More