Not Just Another Space Nazi Movie, Iron Sky Lets Fans Help with the Filmmaking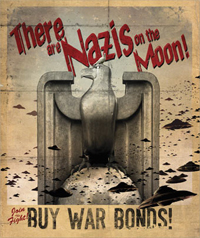 In 1945, Nazis left for the moon. In 2018, they are coming back. So goes the tagline for the only fan-made independent scifi film worth getting excited about, Iron Sky.
From the creators of Star Wreck, the most popular Finnish film of all time (and, according to its producers, the most popular Internet feature film of all time), Iron Sky posits an alternate history where Nazis established a Fourth Reich on the dark side of the Moon. In 2018, with their anti-gravity technology perfected, the Nazis send two young soldiers down to Earth as an advanced party to assassinate President Jenna Bush.
The script is by Johanna Sinisalo, Finland's best-known science fiction writer, and the whole project currently has a budget of $5 million. That's a pretty sizable figure when you consider the movie is being made independently, and when you look at the recently released, spectacular looking teaser trailer.
The film has all the hallmarks of classic science fiction: Alternate
evolution, advanced technology, and a timely metaphor — when the two
young Nazis travel down to Earth, they realize maybe its the invading
force that's wrong. And it has all the hallmarks of a classic science
fiction spoof — look no further than "Nazis on the Moon." But even
with all these elements, and incredible looking special effects, can an
indie scifi comedy survive in today's crowded marketplace?
One thing Iron Sky has going for it is that the feature will be made almost as an open source movie. It's an experiment the creators tried for Star Wreck, and will continue with this film. That means that if you go to the collaborative film site, Wreckamovie.com,
you can actually help tweak the script, and create shots for the film
itself. This not only helps keeps costs down, but it also means that
the producers expect over 10,000 people to become involved in the
production. That's 10,000 people who now have a personal stake in how
well the movie does.
And that's a damn better start than those Moon Nazis will give us.
Read More