DVDs This Week – National Treasure 2, Strange Wilderness, and More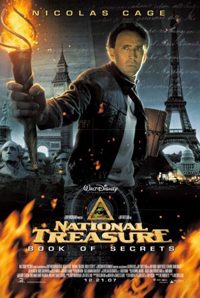 • The National Treasure movies succeed where other Da Vinci Code knock-offs have failed by doing one simple thing: Embracing their inner dumbness. Never has a movie so filled to the brim with respectable actors (Harvey Keitel, Ed Harris, Jon Voight, and Helen Mirren) been so stupid, and so completely non-apologetic about it. National Treasure 2: Book of Secrets concerns John Wilkes Booth's secret diary, and Cage's attempts to clear his ancestor's name in the assassination of Abraham Lincoln. It hardly makes sense if you think about it too hard, and that's one hundred percent of the fun.
• Strange Wilderness is stacked to the gills with comedic talent, including Steve Zahn, Jonah Hill, Justin long, and Jeff Garlin. A ratings challenged nature show vows to find Bigfoot to get the show back on the map. There's nature footage, with dialogue over-dubbed by a riffing Steve Zahn. And yet, it currently has a 0% on Rotten Tomatoes. You be the judge…
• Another all-star cast anchors The Air I Breathe , a series of interweaving tales with four actors representing each element of life: Forest Whitaker for happiness; Brendan Fraser for pleasure; Sarah Michelle Gellar for sorrow; and Kevin Bacon for love. Andy Garcia plays a hit man who links all four characters. Neither as terrible as critics made it out to be, nor as thoughtful as it would like to be, The Air I Breathe is worth a look at least for the actor-spotting.
• The Flock is the theatrically buried English language debut of Infernal Affairs
director Wai-Keung Lau. Richard Gere stars an officer of the department
of public safety specializing in tracking sex offenders; Claire Danes
is his young protégé, who has to go undercover at S&M clubs to find
a deadly criminal. Also featuring a cameo by pop star Avril Lavigne,
the movie never quite gels, nor is Danes believable as an undercover
S&M expert, but it's much better than the lack of theatrical
release would have you believe.
• Director George Romero essentially remade his classic film, Night of the Living Dead , with the YouTube Generation friendly Diary of the Dead : A group of pretty young things are torn apart and eaten
by zombies, while recording the whole event. Though the film divided
critics and audiences, it was well enoughreceived that Romero plans on making a sequel. And, lucky you, Diary and a remastered Night of the Living Dead both hit DVD today, so you can compare and contrast.
Read More