Lost Planet Now Lets You Play From the Monster's Point of View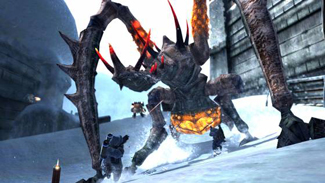 In late 2006, Capcom's release of Lost Planet provided fans with an opportunity to relive moments ripped directly from Starship Troopers , planting controller jockeys behind the wheel of a giant mech tasked with clearing a frozen wasteland of its insectoid inhabitants.
It was a fun romp, but one that lacked a crucial option — the ability to play from the antagonist's perspective. Thankfully, on May 27, Capcom is releasing Lost Planet: Extreme Condition Colonies Edition, an expansion which will fill the void.
Beyond the usual updates (new characters, maps, modes, and weapons), Lost Planet: Extreme Condition Colonies Edition introduces a new multiplayer mode. That means bug sympathizers will be able to take the role of the Akrids and wage a savage campaign of arthropodal brutality against the human occupiers of their home world. The only question left to ask yourself now is not whether you'll play as human or Akrid, but which of the delightful skull-pile arrangements from Horrible Nightmare Beast Monthly you'll choose for your alien burrow.
Read More