Japanese Schoolgirls Teach Vader How to Text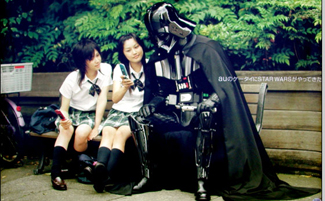 The official Star Wars website isn't usually known for its sense of humor towards the franchise. But they've been lightening up over there — just take a look at this recently posted a collection of hilariously bizarre Japanese Star Wars posters.
Several of the more unusual finds come from advertising which places the Wars characters in bizarre context.
Yoda appears to love his fake iPod thing-y almost as much as he
does The Force. One standout image has to be the Panasonic ad
featuring Chewbacca, Wicket the Ewok, and Lucas himself, astride an
old-school satellite dish — certainly Lucas and Co. had no idea they'd
end up straddling a Panasonic product like some sort of rocket-powered
broomstick when they initially posed for that photo. Also, the less
said about the ad featuring a pair of Japanese
schoolgirls teaching Darth Vader how to send a text message the better.
Humor value aside, quite a few of the images are striking, such as the gorgeous Return of the Jedi poster
by Japanese artist Noriyoshi Ohrai that could easily stand alongside
the Drew Struzan original. (The site also recently featured an
extensive article on Ohrai's eye-popping work.)
Read More