How to Make a (Good!) Science Fiction Movie (for Cheap!)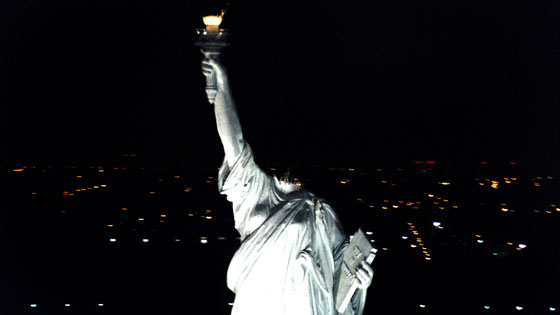 A question for you: In terms of production cost to box office gross, what is the most successful science fiction/fantasy film of 2008 so far? (Hint: not Speed Racer.) If you guessed Iron Man, that would be a good guess: It cost about $150 million to make and so far has taken about $435 million worldwide, or about almost three times what it cost to make. But the real return on investment heavyweight for the year is already out on DVD: Cloverfield. Worldwide, it raked in $170 million, but it only cost $25 million to make — which means in brought in almost seven times production costs. That's the sort of return that makes movie executives tingle.
What Cloverfield shows us is that in this age of nine-digit film budgets, it's still possible to make a science fiction film that looks great, has all the bells and whistles that fans expect — and still costs less than what Will Smith gets paid. How do you do it? Here are three options, which can work singly, or in combination.
1. Ditch the Stars
So how much does Will Smith get paid to make a movie these days? Well, $28 million for I, Robot — or a quarter of that film's $105 million production budget (or $3 million more than all of Cloverfield). I'm a big fan of Will Smith, personally, but that's a hell of a lot of money. Cloverfield has a bunch of actors most folks have never heard, and got them for probably what the craft service budget was on Iron Man. It banked on making its monster its star — a smart move, since they didn't have to pay the monster anything aside from letting it make a virtual Manhattan its buffet.
If you can't get away with no stars, the next best thing is to get genre-friendly TV stars and/or B-movie actors (see: Serenity , $40 million to make, and Pitch Black , $23 million). Or if you must have someone recognizable, make them British (see: Dark City got both Kiefer Sutherland and Oscar-winner William Hurt on a $27 million budget. Just don't take it too far: As a Gen-Xer it hurts me to say it, but Christian Slater at his very peak couldn't have saved Alone in the Dark. Of course, at his peak he wouldn't have been in it.
Occasionally a genuine A-list star might take a huge pay cut to make a science fiction movie, but it helps if your script is by Charlie Kaufman (see: Being John Malkovich , Eternal Sunshine of the Spotless Mind ).
2. Don't Make It in Hollywood
Or if you do make
it in Hollywood, don't make it for the major studio, make it for its
"indie" arm. The major studio will insist on the A-list star and will
give you the wherewithal to do crazy expensive stunts, like, say,
shutting down Times Square to have your expensive A-list star run
through it while it's deserted — as Tom Cruise did in 1999's Vanilla Sky ($70 million production cost). In contrast, when Cillian Murphy walked through a similarly deserted London at the beginning of 28 Days Later ,
they didn't shut down London; they just shot in the early morning and
just asked people stumbling out of all-night clubs if they wouldn't
mind not wandering into the shot. Production cost of 28 Days Later: $8 million.
28 Days Later is the perfect example of an excellent
science fiction film made cheaply because it wasn't made in Hollywood:
It was made in Britain and funded in part by the UK Film Council, which
didn't have huge sums to toss about; it was only distributed by Fox.
But it had a top-flight director (Danny Boyle) and a pack of impressive
British stars (Brendan Gleeson, Christopher Eccleston), and a kickin'
story. And it certainly doesn't look worse than films that cost nine or
ten times as much. At the very least, I'd rather watch 28 Days Later than Vanilla Sky.
3. Hire the Screenwriter to Direct
The
screenwriter is used to having his work brutally slaughtered by other
filmmakers, so when he gets a chance to step up to the director's
chair, he's going to do everything he can to make it work, no
matter what. Warning, however: This is highly contingent on the two
other factors. Case in point: David Twohy. When all Twohy had was $23
million, no big stars and a distribution deal with mini-studio USA
Films, he made Pitch Black. When he had $120 million, big stars and Universal Studios backing him, he made The Chronicles of Riddick. Lesson: There's something to be said about keeping your screenwriter/director pinching pennies.
Now go! And make good, cheap science fiction films!
Winner of the John W. Campbell Award for Best New Writer, John Scalzi is the author of The Rough Guide to Sci-Fi Movies as well as the novels Old Man's War and the upcoming Zoe's Tale. His column appears every Thursday.
Read More