Just How Heavy Are Four Feathers?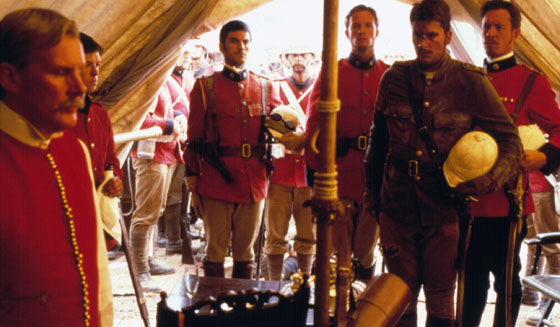 What's heavier, a pound of bricks, or a pound of feathers? If the feathers came from Shekhar Kapur's tear-jerker, The Four Feathers, then clearly, the winner is the pound of feathers.
Using our patented rating system, we're going to look at the filmography of The Four Feathers three stars: Heath Ledger, Wes Bentley and Kate Hudson, and determine which of their films are the heaviest, on a rating a one to four feathers… but to make things a little more interesting, we're limiting their films to those that have prominent numbers in the title.
How To Lose a Guy in 10 Days (2003)
Kate Hudson stars with bronzed man-god Matthew McConaughey as a magazine writer putting together the titular story, as part of a bet with her editor. Turns out McConaughey has his own contest going on, that he can make any woman fall in love with him in 10 days. Coincidentally, they meet cute, and you can probably write the rest. This film could be made out of clouds, and you wouldn't notice the difference.

Heaviness:
P2 (2007)
Poor Rachel Nichols is locked in a parking garage, and chased by a psychopathic attendant who's fallen in love with her, played by Wes Bentley. It's no high drama, but with unrelenting terror, and a pitch black Christmas Eve setting, P2 doesn't let up for humor at any point.

Heaviness:
10 Things I Hate About You (1999)
A modern adaptation of Taming of The Shrew,
with Heath Ledger and Julia Stiles playing the high school stand-ins
for Petruchio and Katherine, respectively, the movie manages to sneak
in a little pathos with the romantic comedy shenanigans. The plot soars
well beyond its rote roots, thanks to the top-notch performances of its
stars and supporting cast: The scene where Stiles realizes just how
much she's lost by turning away Ledger never fails to create a lump in
our collective throats.

Heaviness:
200 Cigarettes (1999)
Another
numerically-titled movie from 1999. In this ensemble comedy, Kate
Hudson is an accident-prone klutz who smokes her way into the heart of
a shy Lothario, played by Jay Mohr. There's elements of drama
throughout the movie, but with Hudson and Mohr in the main roles of
this particular section, goofy is the name of the game.
Heaviness:
The Four Feathers (2002)
Though only Wes Bentley managed to get as high as a Three Feather
rating for his horror film, when working along with his co-stars Hudson
and Ledger, the trio manage to create a soaring, serious, adult drama.
If anything, this film marked their transitions from kiddie fare to the
roles that they are now better known for. Except Kate Hudson — who
went on to do many more romantic comedies. And Wes Bentley, who had
previously starred in the relatively serious, American Beauty .
So Heath Ledger, I guess. Yeah, that's it. This was Heath Ledger's
first chance to be taken seriously as an actor, and he embraced it with
gusto; giving us a first glimpse of the emotion and talent he would
bring to his later roles, like Brokeback Mountain .

Heaviness:
For a full schedule of The Four Feathers on AMC, click here.
To share your review of the movie, click here.
Read More