Is Troy the Hottest Brad Pitt Role Ever?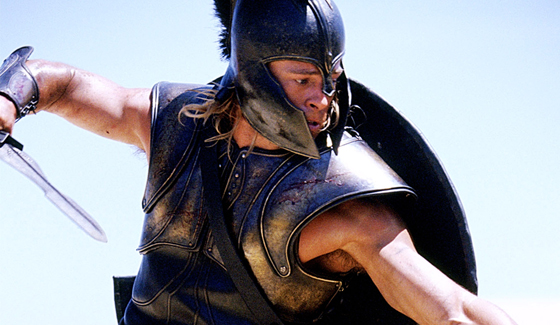 There are many reasons to watch Troy: the crisp direction by Wolfgang Peterson; the all-star cast of Orlando Bloom, Eric Bana, and Brian Cox; the re-telling of Homer's The Iliad with action movie tropes. The very best reason, however, is Brad Pitt.
Pitt spent over seven months training his body to almost physical perfection for his role as Achilles. And since scenes were shot out of chronological order, Pitt had to maintain his exact body appearance throughout the filming, which entailed a long, hard exercise regime for the entire length of the shoot. So herewith, we're going to rate Brad Pitt's film roles and decide whether they're hunky, or the "pitts." He's no slouch in the looks department on a regular day, so keep in mind that zero Pitts is still better than 10 Buscemis.
Interview With a Vampire (1994)
This is, arguably, the film that rocketed Pitt to stardom. He plays an undead vampire so beautiful, even Tom Cruise wants to make out with him. In embodying Anne Rice's Louis, Pitt needed no special effects to make himself seem like a supernatural being.
Rating:
12 Monkeys (1995)
Pitt plays Jeffrey Goines, a rich-boy animal rights activist who may or
may not lead the Army of the Twelve Monkeys that ends up forcing humans
to retreat underground in the future. All greasy hair and
twitches, Pitt was purposefully playing against type, and it shows.
But, you know, he's still Brad Pitt. So we'll give him one point.
Rating:
Fight Club (1999)
How can someone be so hot and so gross at the same time? Pitt proves it's possible, by sporting a pre-Troy
body that gets pummeled and beaten until he has the consistency of
hamburger meat. Bleeding, spitting out teeth, and living in a
dilapidated house, Pitt is charismatic in this movie, but also, totally
repulsive.
Rating:
Confessions of a Dangerous Mind (2002)
In this blink-and-you'll-miss-it cameo, Brad Pitt and Matt Damon play bachelors on Chuck Barris' gameshow (The Dating Game).
A third, much less movie-starish bachelor gets chosen over the two
actors in a priceless gag to illustrate personality really is more
important than looks. Pitt still looks good, but we're knocking off a
few points for getting shot down on The Dating Game.
Rating:
Troy (2004)
As
mentioned above, Pitt's role of Achilles called for him to be the
ultimate warrior; and because of that, he needed to reach absolute
physical perfection. Pitt's
workout and physique were considered so flawless, they've inspired multitudes of websites
who's sole purpose is to reverse engineer just how he got his body to
look so good. Add in Wolfgang Peterson's luxurious direction, and Roger
Pratt's golden-hued cinematography, and you have the perfect film god.
Rating:

For a complete schedule of Troy on AMC, click here.
To share your review of the movie, click here.
Read More