Giant Monster Sequels in Need of Funding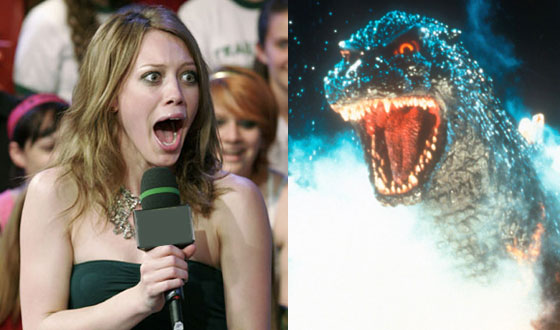 Novelist Scott Sigler's horror column appears every Thursday.
Giant monsters are having a renaissance, what with The Host , Cloverfield and King Kong raking in box office gold in the past few years; The Host 2 and Cloverfield 2 are already in production. Why? Because, my fine friends, where there is money, there are sequels. And just like the diaper rash of '80s slasher-flick remakes (See Stacy Ponder's lambasting of Michael Bay and remakes-that-should-not-be-remade), we're clearly dreading the hurtling meteor of doom that is giant monster movie remakes, sequels, and low-budget nightmares.
So what's coming? Red-hot remakes of Gammera ? Mothra ? Unfortunately, the scripts kicking about Hollywood might not be up to that pedigree. Don't fret, people, I've got the info and I'm here to give you the heads-up on some of the hottest projects currently seeking funding.
Pete's Dragon II: Bad Dragon!
If you've never seen Pete's Dragon , please go get the DVD. You can watch it sober, but I wouldn't recommend it. This sequel follows the story arc of Pete as he enters adolescence and starts experimenting with psychotropic drugs. A cautionary tale, Pete's addiction to meth sends him into a flame-breathing rage that sets New York City ablaze.
Godzilla vs. Hilary Duff
Rumor has it this one is already in the can… and already shelved. What was supposed to be a 90-minute monster flick turned into a 15-minute short. The directors just assumed that since Duff can pretend to act, pretend to sing, pretend to design clothing and pretend to create signature perfume fragrances, she could pretend to fight. Turns out, not so much.
Water Horse: Bloodlust
With a drastically darker approach than the original movie, Water Horse: Legend of the Deep, director Jay Russell wants to cash in on the killer-monster market created by The Host and Cloverfield.
Set five years after the original, the horse returns to visit Angus who
has become a bitter and despondent teen loner. In order to get
attention from the "cool kids," Angus tries to decapitate the water
horse so he can put the severed head in his history teacher's bed — a
warning that all the kids want A's, or else. The horse escapes death, only to go on a brutal rampage that sees the death of many brave Scots.
Tapewormicus: Intestinal Parasite of Doom
Tapewormicus debuted in the 1992 flick Godzilla vs. Mosura.
Unfortunately, his scenes were left on the cutting room floor, and his
appearance went uncredited. Still, his agent persevered and landed a
meeting with Uwe Boll, who was only too happy to dive head-first into
the Tapewormicus project. Rumor has it Boll has an open slot on
his schedule next Tuesday, 3PM to 4:30PM, and will shoot and edit
the entire movie during that time — although he is admittedly shooting
two other feature-length movies simultaneously in that slot.
Arsenio Hall's Head
This is one of the other giant monster movies Uwe Boll is shooting next Tuesday from 3PM to 4:30PM.
The Fallen Ones: Giant Mummy Movie
Okay,
I heard about this one and it's total BS, but the concept is so bad I
just had share it. Get this — an archaeologist finds the mummified remains of a giant —
the offspring of a Fallen Angel and a human woman. Now he has to stop
the terror he has unleashed. OMG that's horrible! Worse than Attack of the Giant Leeches!
Thank goodness they won't actually make this one … wait, someone just
handed me a memo. They've actually made this? With Casper Van Dien?
Jumbo, the Pissed-Off Shrimp
This J.J. Abrams 300-foot killer shrimp project is cloaked in secrecy, but word has it it's actually a giant monster sequel to Forrest Gump . Tom Hanks hasn't committed yet, but Gary Sinise is signed on to revise his role as Lt. Dan Taylor. SPOILER ALERT! A
few script spoilers have hit the Net: apparently Lt. Dan's "magic legs"
are replaced with cybernetic tentacles made by the Swiss Army Knife
company. After an initial thrashing by Jumbo that results in the
sinking of the Jenny, Lt. Dan adds some crab crackers to his tentacles
and comes back for a kick-ass final scene.
So clearly, there are
quality giant monster scripts that just need a few bucks to get by.
I'll act as your clearing house, and finally, you're in the movie biz!
Don't you have a rebate check coming back from the Government? Just
sign that bad boy over to Scott Sigler, and I promise Uwe and I will get that sucker made.

Scott Sigler writes tales of hard-science horror, then gives them away as free audiobooks at www.scottsigler.com. Infected, hit stores on April 1, 2008. If
you don't agree with what Scott says in this blog, please email him
scott@scottsigler.com. Please include all relevant personal
information, such as your address and what times you are not home, in
case Scott wishes to send someone to "discuss" your opinions.
Read More