Galaxy Quest Gets a Comic Book, Ignites Hope for Sequel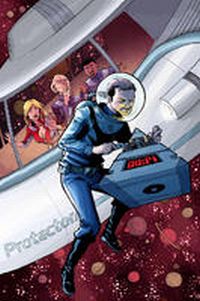 IDW Publishing, the company behind some of the most interesting licensed scifi comic books going (and also, uh, Ghost Whisperer), just announced plans to publish a Galaxy Quest mini-series. All well and good, but how about a sequel?
With even moderately successful franchises getting a sequel or a reboot these days, it's surprising that a film with so much built up goodwill has yet to garner a follow-up. Both Tim Allen and Sigourney Weaver have expressed interest in revisiting their characters. So why the hold-up?
The likely reason is that the cast members are all just too busy now to get their schedules to line-up. Allen, Weaver, and Alan Rickman all have major film careers; Tony Shalhoub has Monk; Sam Rockwell is an indie film star. Even Justin Long (Brandon) and Missi Pyle (Laliari) have seen their profiles rise since the film's 1999 debut. Still, reuniting the original cast (and director Dean Parisot) would be a goldmine in this day and age of big budget effects-driven comedies. And since studios are all about a recognizable brand, it seems like a no-brainer. Fingers crossed that the comic leads to an onscreen reunion.
Read More