Frontier(s) Review – Like a Horror Movie Pizza With Everything on Top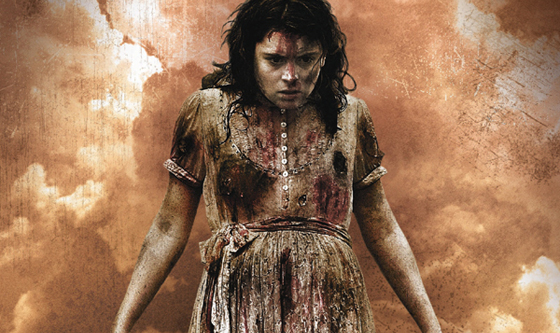 Frontier(s) Review – Like a Horror Movie Pizza With Everything on Top" width="560″/>

Over the past few years, horror has been outsourced. If foreigners can run our call centers then surely they can make something as simple as a horror movie, right? In fact, they've turned out to be better at it than we are. After a run of J-horror ( The Ring , The Grudge , any number of movies featuring dead wet girls with long black hair), there was a run on K-horror ( A Tale of Two Sisters , The Host ), and now there are the French imports: Haute Tension, Inside and the regrettably titled Frontier(s). It sound(s) like the title of a grad school paper(s), but is, instead, another reminder that people who live in the country are creepy and should be destroyed.
In Paris, the banlieus are burning and four street kids use the riots as cover for a bank robbery. The criminal foursome are young, multi-ethnic and attractive, like a United Colors of Benetton ad. The designated group hottie, Yasmine, is pregnant and is planning on getting an abortion ASAP, while the guys like to smoke pot and video themselves having a lot of sex. It's like watching a Gus Van Sant movie dubbed into French. Très sexy. Très disaffected. Très hip.
Hiding out in a quaint country inn, the four soon discover that its rustic charm is undermined by the fact that it's run by a family of neo-Nazi cannibals, whose flesh-eating, inbred mutant zombie babies nest in an abandoned nearby mine. One by one, the criminals come to a bad end via hook, hot steam and chopper until only a traumatized Yasmine is left, because the Nazi family needs her womb to brew the master race.
By the time one of the sexy young thugs is impaled on twin meat hooks by an enormously fat, leather-apron-clad Nazi cannibal, you could be forgiven for thinking to yourself, "Mon dieu, it is Le Texas Chainsaw Massacre," and you wouldn't be too far off. If you ordered a horror movie pizza and said "give me everything on top," then what arrived at your door would look a lot like Frontier(s). If it's been in a horror movie, it's in this flick — and we're not talking tips of the hat, but straight-up steals and samples from The Descent , Hannibal , Motel Hell , House of a Thousand Corpses, Haute Tension, Sheitan … and that's just in the first 30 minutes. After that my brain got tired.
Originally written in 2002, Frontier(s) sprang from director
Xavier Gens' brow during the demonstrations and political unrest that
swept France when the extremist candidate, Le Pen, made it to the
second round of voting in the presidential election, the first time a
candidate with such insane, right-wing views had made it that far. Le
Pen had described Nazi-occupied France as "not particularly inhumane"
and the people took to the streets to denounce his views. What could
come across as just more Hollywood gore gains depth and resonance from
recent events, but should you have to do history homework to enjoy a
horror movie? Because as Le Pen's near-victory becomes a historical
footnote and fades in importance until his name holds all the menace of
Michael Dukakis, Frontier(s) feels more and more like just another installment in a Hollywood franchise.
Frontier(s)
scores on all fronts in the technical department — acting, camerawork,
editing, production design, but its slick technical package feels dead
inside, like watching Siegfried and Roy's magic act at the Mirage in
Las Vegas — and let's be honest, we'd all rather be there on the night
that tiger gnawed on Roy's head like a chicken drumstick. Once you see
something enough times, it's more fun to see the mold get broken, than
to witness it turning out yet another flawless replica.
Read More