Games, Polls & Quizzes
Ultimate Fan Quiz – Ferris Bueller Results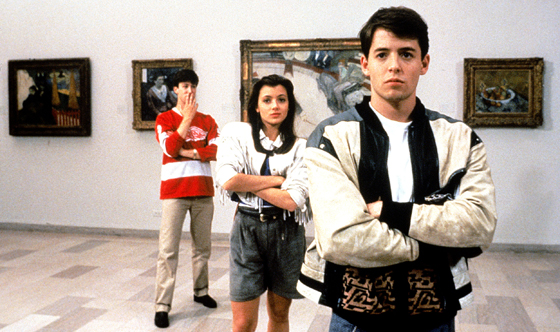 The Ultimate Ferris Bueller Fan: Steve Savage
Hometown: Fayetteville, North Carolina
Age: 46
Profession: Sergeant First Class in the US Army's 82nd Airborne Division at Fort Bragg, recently returned from 15 months in Afghanistan
Sergeant Savage was annoyed when his roommate insisted they stay in the movie theater through the end credits the first time they saw Ferris Bueller's Day Off. "But I have to admit, I loved Ferris' admonition to 'Go home!'" he says. "I loved the offbeat sense of humor, the interplay of the detailed characters, and the timeless soundtrack." Much to his wife's chagrin, he has since seen the movie countless times, wearing out his VHS copy of it. "Now I can only watch it when she will be out of the house," he admits. Savage says he loves Ferris because the conflicts it presents are timeless — the same that he faced in high school and the same his children now face today. "I never faked an illness to get out of going to school," he swears, "but I did do quite a few Ferris-like skips. Once, I borrowed the family car because I missed the bus, then went downhill skiing instead. I also once asked a teacher if I could leave school early to go water-skiing. He told me, 'No, now go sit down.' So I sat down, then got up and went water-skiing."
Ultimate Ferris Bueller Fan Quiz Answers:
1. What reason does Ferris have to resent Jeanie?
She got a car — He got a computer
2. What breed is the Buellers' dog?
Rottweiler
3. What painting transfixes Cameron at the Art Institute of Chicago?
"A Sunday Afternoon on the Island of La Grande Jatte" by Georges Seurat
4. What is the score of the Cubs game when Rooney is at the pizza parlor?
Nothin' – Nothin'
5. In what subject does Ferris have a test the day he ditches school?
European Socialism
6. What does Cameron think Ferris will be when he grows up?
A fry cook at Venus
7. What song does Ferris play on his keyboard using coughing sounds?
The Blue Danube
8. According to a rumor sweeping Ferris' high school, to whom will he donate his eyes in the event of his death?
Stevie Wonder
9. Which of these items does Ferris not have in his room: An electric guitar, a dart board, a French flag, a Cabaret Voltaire poster?
A French flag
10. What's the mileage on the Ferrari before Ferris and Cameron take it out?
One hundred and twenty six and half way between three and four tenths
11. What's the link between the restaurant where Ferris, Sloane and Cameron have lunch, and the place Rooney travels first to look for Ferris?
The name of the restaurant where they have lunch is Chez Quis, which is pronounced the same as the restaurant where Rooney first looks, Shakey's
12. Where is Cameron's mother?
Decatur
13. What car plays the 1961 Ferrari 250 GT California?
"Classic GT250" Kit Car by Modena Design (Note: Given the numerous sources online that erroneously credited the car as a modified MG, this question was considered a bonus in scoring)
14. Who wrote the script for a proposed sequel to the film, in which Ferris is about to turn 40?
Rick Rapier
15. According to its editor, how long was the original cut of the film?
2 hours, 45 minutes
Read More