Daily Scan: 05.30.08 – Ewoks vs. Predator; Cylons for Sale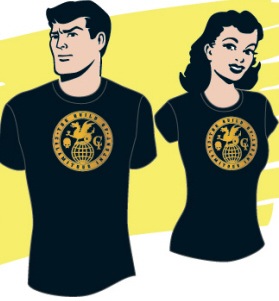 • A new television spot for Edward Norton's upcoming stint as The Incredible Hulk is now online.
• Battle Royale of the Ages: Ewoks vs. Predator.
• Va-va-va-voom: The girls of Battlestar Galactica, in leather, on bikes.
• For the mere price of $7,900.00, you too can own your own officially licensed Cylon.
• Supposedly, a video of a real live alien will be shown today to "select journalists" and never be shown online. Such precautions pretty much guarantee that this is fake, but you already knew that: Aliens are not visiting earth.
• My good buddy Tom Chick takes the mantle of editor at another arm of the SciFi Channel's empire.
• There is a new gallery of Star Wars: Clone Wars images up, if you're so inclined.
• Alexander Courage — composer of the original Star Trek theme — has passed away.
• Astrobase Go is offering swank Venture Bros. themed t-shirts. First up? The Guild of Calamitous Intent.
• io9 tries to suss out the exact moment BSG jumped the shark.
Read More