Daily Scan: 05.14.08 – Alec Baldwin Pitches an Outer Space Romp; Is Cronenberg Remaking Timecrimes?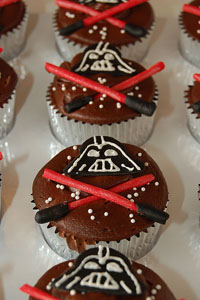 • Eric Stotlz, some kind of wonderful himself, will be the first Cylon.
• io9 reminds us that aliens should always have poetic weaknesses.
• David Cronenberg to be remaking Timecrimes?
• Correction: Speed Racer didn't come in second on its opening weekend, it came in third. This groks: When I went to see it on Saturday, there were only two people in the theater, and one of them walked out halfway through.
• Wall-E's new sexpot girlfriend is based on an iPod.
• ABC is bringing the BBC's excellent time travel series Life on Mars to American screens… courtesy of a David E. Kelley remake.
• Delicious Darth Vader Cupcakes: Dark Lord of the Dessert indeed.
• The Vatican has said that it is okay to believe in alien life. Okay, fine, but do they have souls, or are they like puppies?
• Popular Mechanics debunks the science of Lost.
• Fantastic idea in action: pop-up videos for old Superman cartoons.
• Alec Baldwin wants to go on a filthy, X-Rated romp through outer space. Me too.
• You, too, can build your own Hitchhiker's Guide to the Galaxy, but it's no Encyclopedia Galactica.
• A nice refresher course on Star Wars Mixology.
Read More