Classic Ten – Greatest Car Chases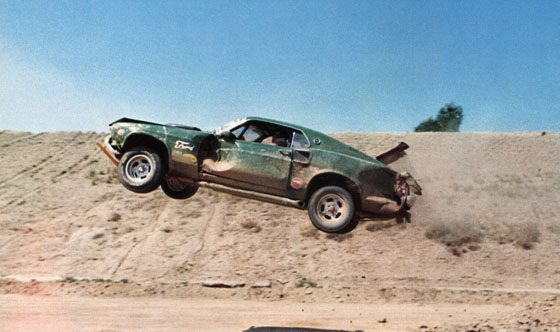 For any action film worth its salt, a well-choreographed car chase is absolutely essential. Such scenes are the genre's showstoppers, with their sudden turns, breathtaking speeds, and obstacle course traffic. Below are the top 10 car chases that always have us on the edge of our seats.

1. Bullitt (1968)
This one outruns the competition with a no-nonsense approach. Once the music cuts out and the bad guy buckles his seatbelt, we're racing down the hilly streets of San Francisco. Flying metal, burning rubber, and the 1960s cool of Steve McQueen culminate in the simple thrill of watching a Ford Mustang out to catch a Dodge Dart at any cost.

2. The French Connection (1971)
With Gene Hackman in a Pontiac LeMans pursuing an elevated train, William Friedkin's heart-pounding car chase was filmed in actual traffic. (Many of the accidents are real!) Driving down the wrong side of the street, barely missing a baby carriage– this movie has inspired its share of copycats. And no wonder: It's a sublimely intense 10 minutes that sets the standard for inner-city chases.

3. Point Break (1991)
Point Break's brilliant car, and then, foot chase hits so many highs, it's hard to keep count. Keanu Reeves and Gary Busey go after a gang of surfer-bank robbers led by Patrick Swayze (in a Ronald Reagan mask). After zigzagging through traffic, both parties are forced to abandon their rides with Swayze destroying his with a gaspump-flamethrower. Running through suburbia, Reeves is attacked by housewives and a well-thrown dog before twisting his leg on a jump. He should've stayed in the car.

4. The Seven-Ups (1973)
Among the gritty, greasy flicks of the Golden Age of Car Chases, this
sadly forgotten Roy Sheider vehicle has the most overlooked chase of
them all. Thanks to Bullitt's legendary stuntman, Bill Hickman, The Seven-Ups
takes us on a motorized rampage as screaming children, parked car doors
and police men go flying. Scheider's devastating smash at the end acts
like an exclamation mark.

5. Ronin (1998)
Director John Frankenheimer was once an amateur race driver — it
shows. Ronin's centerpiece is a high-octane chase through Paris, one of
the most destructive chases in film history. (That's what happens when
cars careen through arrodissements at 120mph). Dig the symphony of
squealing tires, humming engines, and whooshing air as de Niro and Jean
Reno chase rivals through narrow tunnels and riverside avenues.

6. Gone in 60 Seconds (1974)
At first, Gone in 60 Seconds'
gonzo 40-minute chase — using just one Ford Mustang that had to be
repaired a dozen times during production — seems to suffer from
overkill. But in a strange way, this low-budget indie achieves an
absurdly hypnotic delirium with its endless carnage. Unlike most
sequences it also shows, with frequent cut-aways to dazed and injured
participants, that even action scenes have their consequences.

7. To Live and Die in LA (1985)
This time, Friedkin set his crazed car chase amid the emptied canals
and freeways of the title city. Bringing machine gun-toting thugs and
renegade cops along for the ride, he's crafted one of the longest
driving-at-breakneck-speed-down-the-wrong-side-of-the-road scenes to
hit the silver screen.

8. We Own the Night (2007)
James Gray's chase in We Own the Night
is memorable for its realism: Joaquin Phoenix races after a car of hit
men; the action is shot entirely from his POV. With heavy rain pounding
the streets, Phoenix's frantic attempt to save his father (Robert
Duvall) is paced to the rhythm of merciless, eerily mechanical
windshield wipers. As a soundtrack, it's hard to beat.

9. Bad Boys II (2003)
For a 21st Century blockbuster, the no-frills car chase won't suffice. Bullitt created cliffhangers before CGI; Michael Bay's Bad Boys II
revels in a post-production-indebted demolition derby powered by
villains riding an auto transport truck. Barely evading the tumbling,
flipping tons of metal, the two titular cops Will Smith and Martin
Lawrence sum it up nicely: "Wooooooo!"

10. Cannonball (1976)
The silliest entry on the list, Cannonball shouldn't be ignored. Hey,
its best chase scene involves a country-singing duo performing on a
live radio show while simultaneously involved in an illegal cross
country road race. That the scene ends with David Carradine
successfully (and improbably) jumping a gap on the highway makes it all
the more blissfully ridiculous.
What is your favorite car chase film?


Read More