Games, Polls & Quizzes
The Cinemania Trivia Challenge – Patriot Games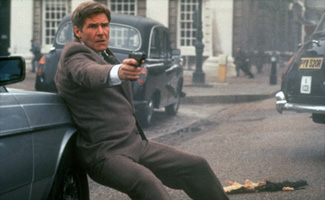 How well do you know Patriot Games? Take our Cinemania Trivia Challenge to find out. Leave your answers in the comments section below then check back Friday afternoon on May 30 to see if you're right.
1. In Patriot Games, what is the house number on the Ryan's mailbox?
2. What's the name of the prison where they interrogate Sean Miller?
3. What's the name of the Pub where Annette kills Jimmy?
4. Where is prison that they are moving Sean Miller to?
5. What kind of medal does Lt. Cmdr. Robby Jackson give Jack Ryan and what does it say?
6. What is the Life flight helicopter number that is carrying Cathy and Sally Ryan to the hospital?
7. What TV station is interviewing Paddy O'Neil outside the hospital where Cathy and Sally Ryan are being treated?
8. In the hospital with his daughter, what book does Sally want Jack to read to her again?
9. What African Camp number does Ryan suspect Sean is in?
Read More