Cannes Film Festival – Harrison Ford Expects the Reviewers to Turn the Whip on Him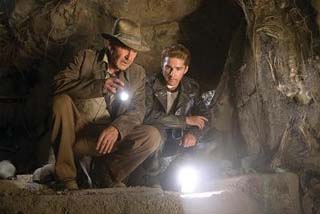 The French Riviera might not be the most dangerous terrain Indiana Jones has ever tackled, but after a 19-year absence and years of rumors, Cannes was perhaps as treacherous as any tomb. Yes, Indiana Jones and the Kingdom of the Crystal Skull premiered at the Cannes Film Festival last night, and all things considered, it lived to tell the tale with mostly-positive, if not conflicted reviews. "One of the most eagerly and long-awaited series follow-ups in screen history delivers the goods," wrote Variety's Todd McCarthy. "Not those of the still first-rate original, 1981's Raiders of the Lost Ark, but those of its uneven two successors."
The premiere was a chance to finally put the rumor mill to rest, and to resolve some lingering questions as to what the film is about. The first trailer showed a crate marked "Roswell, New Mexico," hinting at an extra-terrestrial connection to the film, a rumor which George Lucas was all too happy to confirm after the screening: "The B-Movies of the '50s were crazy science fiction films," he said according to the AP. "It Came From Outer Space and Them! And I said, 'Well, gee, I could use that as the basis of the genre that I was using as my reference." Spielberg joked, "It's like listening to Yoda sometimes."
The other big question on everybody's mind was what role Shia LaBoeuf would be playing. "Now that you've seen the movie I can say for the first time that we have another father-son story," Spielberg said after the screening, according to the Edmonton Sun. Referring to the fact that this is the second of the Jones films that have focused on the father-son dynamic Spielberg opined, "It has been very gratifying to me, and it's been very satisfying, that I haven't been busted too hard by the media for dwelling on this very personal subject."
Of course, the biggest mystery of all is how audiences will respond to the film. "I expect to have the whip turned on me," Harrison Ford told the very critics to which he was referring after the screening. "It's not unusual for something that is popular to be disdained by some people." For his part, Ford told Reuters that he won't be reading any of the reviews: "I don't want to believe the bad stuff and I don't want to believe the good stuff. It doesn't really matter."
Ford's sentiments echo those of George Lucas, who for months has upped the anxiety level among fans, admitting in interviews he thinks critics will hate the movie. And after the screening, star Cate Blanchett admitted that Steven Spielberg, in fact, cared very much what people thought of the film. "Steven was wanting to throw up before he went into the press conference he was so nervous about the response and I think it's because he cares," she told Reuters.
Well, for Harrison's part he can relax in the knowledge that the whip's lash will not smart nearly as badly as expected, and for Spielberg he can digest his Coq au Vin without fear of upheaval. Indiana Jones may be 19 years older but he still knows what it takes to make audiences — and even a few international critics — smile.
Click here to vote for Indiana Jones in AMC's Greatest Movie Hero Tournament
Click here to view AMC's Harrison Ford Hollywood Icon picture gallery
Check out Variety's Festival Central for more news, reviews and interviews from the Cannes Film Festival, including Todd McCarthy's take on Indiana Jones and the Kingdom of the Crystal Skull.
Read More