Cannes Film Festival – IRA Troubles and Terrorism Take Center Stage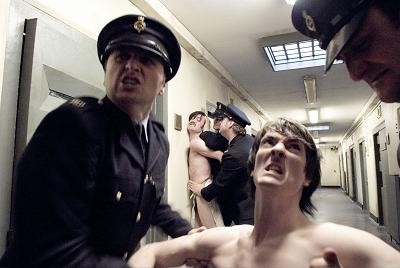 The "Troubles" of 1981 Ireland was the topic of discussion yesterday after the premiere of Hunger, Turner Prize-winner Steve McQueen's (not that McQueen) biopic about the final weeks of IRA hunger-striker Bobby Sands. Set at the notorious Maze prison, the film is already sparking controversy because of its unmistakable parallels with current prison abuses at Guantanamo Bay and Abu Ghraib, and its sympathetic portrait of a man who destroyed his body for a belief.
But, McQueen told Reuters, to find parallels between the character of Sands and a modern day suicide bomber would be a fallacy. And should anyone think so, McQueen advised they "watch the film again and look and listen," He added, "In Hunger there is no simplistic notion of 'hero' or 'martyr' or 'victim.'" Jan Younghusband, the film's executive producer, was less reluctant to connect Sands with the notion of suicide bombing. "You look at suicide bombers and wonder what it is that drives them to kill themselves in their attempt to make the world better," she told The Independent. "This is a very contemporary issue, destroying your body for something you believe in. We look at terrorists and we think, 'Aren't they horrible' they are blowing us up.' But we have to ask what is our role in that? We are not without responsibilities."
One person who truly did have to sacrifice his body was Michael
Fassbender, the 31-year-old actor who starved himself for two months
and dropped 40 pounds to gear up for his portrayal of Sands. "It really
focused Michael on the role," McQueen told the Times Online.
"He changed as a person, becoming clearer and more inward-looking." As
for Fassbender, who survived on a 500-calorie-per-day diet of berries,
nuts and sardines, he only had this to say: "I'd be lying if I said it
wasn't tough."
If Hunger's controversy weren't enough, another festival IRA flick is drawing ire even before its premiere. Fifty Dead Men Walking,
based on one of the most important agents to infiltrate the IRA and
prevent dozens of murders and bombings during the Troubles, is being
criticized for portraying what the agent himself called a "totally
distorted" sequence of events. "That version of events is wholly
untrue," Martin McGartland told the Guardian UK
about the film, starring Sir Ben Kingsley. "My mother's house was
attacked, my brother left for dead after a beating, long after I was
gone from Belfast and in hiding. They should have represented my story
more accurately and fairly."
Check out Variety's Festival Central for a review of Hunger as well as other exclusive festival news, reviews and interviews, like this one with Michael Moore on his new film.
Read More