Uncategorized
Cannes Film Festival – Surveillance Director Jennifer Lynch on Her Return to Filmmaking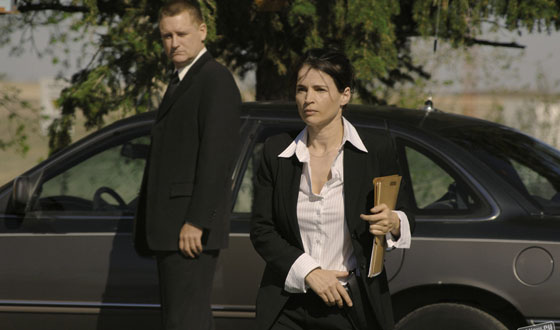 Surveillance Director Jennifer Lynch on Her Return to Filmmaking" width="560″/>
It's hard to say what will shock Cannes audiences more: Jennifer Lynch's return from a 15-year hiatus in filmmaking, or her uncanny, lacerating new thriller Surveillance, starring Bill Pullman and Julia Ormond, which screens tonight. She's a little curious to find this out herself. Lynch spoke to AMCtv.com about her hopes and reservations, and her family's legacy in film.
Q: What kind of pressure do you feel from Cannes?
A: Having come out of 15 years of a totally different life, the whole thing is exhilarating and terrifying. I feel like I'm about to enter an enormous library — it's really only 26 letters jumbled up in different ways, and all these stories are alive in there. That's where it feels like I'm headed, to this cinematic library where we're all using the same 26 letters to tell our stories; I just hope the way I've arranged them works for people.
Q: Is what we see in the trailer reflective of the film you've made?

A: It concerns me a little bit that the big reaction I get is, "Wow, that looks scary," because I made what I hope is a frightening film, but it's more psychologically scary, than it is Saw 5. So hopefully it won't be billed as anything but a thriller and will stay away from the horror market, because if people go in expecting a horror film, they may find themselves disappointed.
Q: In what ways do you think Surveillance is going to surprise people?
A: The FBI done by Bill and Julia is a totally different ball of
wax. Also, I hope people will be surprised by some of the actors I used
who aren't exactly "name" actors, who did an incredible job, whom I
hope have huge careers ahead of them.
Q: What was it like working with Bill Pullman?

A: He can go from a really dark moment to "Hey, how's it going" in a
flash. I wanted him from the start, but he wasn't available or wasn't
into it. Three years later, when I was literally a week from shooting,
I lost my lead actor. I called him up and said, "Bill, I won't be able
to sleep again unless I at least try. I know you can only give me one
of two answers… I sent him the script, and he called me a few hours
later and said, "I'm flying to Canada." It all came full circle.
What shocked me more was the fact that Julia Ormond actually called
me… When I heard that Julia Ormond wanted to meet with me about this
part, I said, "The Julia Ormond? Well, damn, sure I'll have
coffee with her!" And she just blew me away. She's totally undercover
as a proper English woman, but there is sex in Julia when she just
walks across the room, or clears her throat. She's a powerhouse.
Q: Do you get tired of people asking about your father's influence on your work?
A: What's funny is that he had nothing to do with this film. The
Executive Producer credit is both my gift to him for all his help over
the years, and his gift to me. He loved the script, he was thrilled to
help make it happen. He saw it for the first time after I was done
cutting it. His influence is obviously in there, but if you look
through my mother's paintings, you'd see her influence in there too. It
never gets tiring. I adore my parents, even when we piss each other
off.
Q: Boxing Helena came out in 1993. Are we going to have to wait another 15 years for your next movie?
A: No you're not! Those 15 years were filled with work on a book, trying to recover from the backlash of Boxing Helena.
And then I had three consecutive spinal surgeries, and that took some
time. Also, I got pregnant and I realized I was going to raise my
daughter alone. She'll be 13 in September, and now I can get back to
work. I've already got my next picture planned, and I'll be shooting
this summer.
Read More