Cannes Film Festival – Interview With Changeling Screenwriter J. Michael Straczynski
<img src="http://dev.blogs.amctv.com/wp-content/uploads/2008/05/Changeling3.jpg" alt="" title="Cannes Film Festival – Interview With Changeling Screenwriter J. Michael Straczynski" width="560″/>
J. Michael Straczynski has penned superhero comics, created a critically acclaimed SciFi series (Babylon 5) and written for Murder She Wrote. Now his brainchild, Changeling, directed by Clint Eastwood and starring Angelina Jolie, is in competition for the top prize at Cannes. Straczynski spoke with AMCtv.com about his detective work in writing the script, the film's political relevance, and how it feels to have a fan in Clint Eastwood.
Q: There are really two stories going on in the movie: A
mother's search for her child, and a corrupt police system covering it
up.
A: Yes. The system was corrupt. It was considered to be massively
powerful and unstoppable, but it fell before one woman asking the
most simple, straight-forward question a mother can ask: Where is my
child? She wasn't out to
make a political statement; she wasn't out to bring down the mayor or
chief of police or police captain — she just wanted the truth. The
more they went to extremes to cover up the truth, the more that house
of cards began to fall. And those who had been suppressed for a long
time began to rise up behind her. There wasn't an agenda, it was just a clean cause to really start
chipping away at the core of the police corruption.
Q: How did you become inspired to write Changeling?
A: For a number of years prior to getting into television, I had been a reporter. And even though I had left journalism some years before, a source of mine at City Hall said "There's something here you should see." I zoomed down there, and read the transcript of the City Council welfare hearings in the case of Christine Collins. When I realized what the story was, I thought, "This can't actually have happened" So I spent a year researching and digging up old county courthouse records, city calls records and criminal records and finally pieced the whole thing together. I sat on it for a long time, and then one day, the structure just sort of cracked in my head, and I wrote down the draft that I eventually sold in about 11 days.
Q: You inserted newspaper clippings from the story into the physical copies of the script. Why?
A: The story is just so bizarre that you need something to remind you that I'm not making this stuff up. So it seemed important to me to put in those clippings because you reach the part of the story where you go, "Come on he's got to have gone off the rails with this." Turn the page and there is indeed an article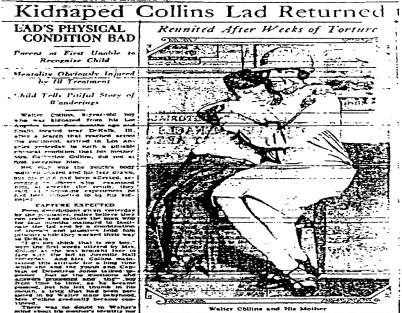 confirming it, which is why, in terms of writing the script, I hued very close to the facts. The story is already extraordinary enough.
Q: So did you take any liberties with the story when you were writing it?
A: There are only two places in the entire script where I had to figure out what happened because there wasn't much in the public record. An example of that is [when Collins is committed to an insane] asylum — there isn't a great deal in the record about what happened while she was there. There is some testimony given after the fact, but it's limited so I had to kind of extrapolate based on what was being done at hospitals in general at that time. But otherwise, it's pretty rigorous.
Q: How did Clint Eastwood become involved?
A: When I wrote the script, my agent got it to Ron Howard, who loved it. But his contract to do Frost/Nixon required that it be his first project, and he didn't want to have this thing sitting too long. So they sent it over to Clint, who loved it enormously. And Clint's funny — if he likes it, he'll do it, that's the end of the discussion. When I met with him to ask, "Do you want any changes, do you want any things cut, added to, subtracted from, whatever," he said, "No. The draft is fine. Let's shoot the draft." To have someone like Clint Eastwood come along and shoot your first draft as written is just any screenwriter's dream. And Clint is very straightforward. If it's good enough to get his attention, it's good enough to produce.
Read More