Bud Ekins Is the Real Steve McQueen in The Great Escape's Greatest Scene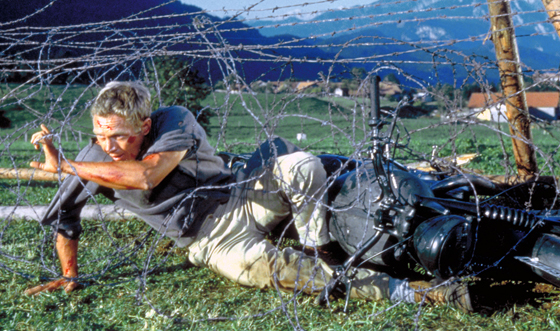 Steve McQueen on a motorcycle leaping 65 feet over a barbed wire fence
while fleeing the Nazis — it's one of the most memorable scenes in The
Great Escape… and it certainly looks like Steve McQueen on that bike.
But even though the King of Cool did much of his own stuntwork, it was Bud Ekins who actually made that spectacular jump.
Ekins,
who also doubled for McQueen in Bullitt , was a renowned member of that
select club of daredevils, the Hollywood stuntman. It's also an
underappreciated club. Stunt performers have the guts but don't get
much of the glory, risking their lives without the corresponding payday or A-list cachet. Ekins reportedly
made $1,000 for that jump, while McQueen got a paycheck of $400,000 for
the movie.
And although stuntmen and stuntwomen — a group that includes
motorcycle racers,
automobile drivers, pilots and fight choreographers — have their own
industry prize, the Taurus, for years, they've unsuccessfully lobbied
the Motion Picture Academy for their own category: Best
stunt coordinator, the person who designs the stunt and ensures it's
executed safely.
When the Academy of Motion Picture Arts and Sciences rejected the stunt
performers' request in 2005, stuntman and stunt coordinator Jack Gill pointed out, "It
seems like every picture that is promoted has an action piece to lure
audiences in there and the stunt people are central to those scenes." Even with the advent of CGI,
stuntmen and stuntwomen have hardly outlived their usefulness,
continuing to perform feats of derring-do on screens both big and
small, from action films like The Bourne Supremacy to TV shows like AMC's own Mad Men. (See Episode 9 when stuntmen made it look like Vincent Kartheiser and Aaron Staton were engaging in fisticuffs.)
Watch Ekins in action. For a complete schedule of the Great Escape on AMC, click here.
To share your review of this movie, click here .
Read More