Advice on How to Make The Hulk Work on the Big Screen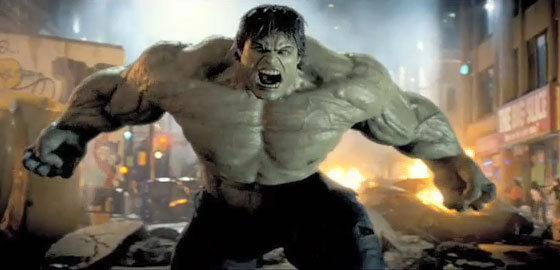 gray Las Vegas enforcer Hulk. If the film's can give in to Banner's dark side, it might make for a more interesting character. As it stands now, we have to slog through the endless scenes of Banner trying to cure himself in order to get to the brief Hulk action.
Mo-Cap Is Your Friend
If you're going to focus mostly on Hulk, you'd better make him a believable character. (Ang Lee failed spectacularly with the "Shrek Hulk" from the first film.) The Incredible Hulk seems to have gotten Hulk's color scheme right at least, and he also looks somewhat scary. (He is, after all, a big "hulking" monster.) But he's also still about as realistic as Kung-Fu Panda. I know we fans fear the growing power of motion capture, but even Gollum had more personality. And if ever a franchise needed to utilize the technology to humanize its lead character, it's this one.
All Hail the Leader
Two films and no Leader? He's only Hulk's archenemy. (After all, Tim Burton didn't kick off the Batman franchise with the Mad Hatter.) The Abomination is certainly better than the "Absorbing Nick Nolte Man" from the first film, but you can't beat an arrogant would-be world conqueror with a super big brain. Rumor has it The Incredible Hulk will set up Leader's role in the next film (if there is a next film.) That's all well and good, but it shouldn't have taken this long. The Leader is not pleased.
Let Hulk Smash
It took a good 40 minutes of set up in Ang Lee's Hulk before
we saw any Hulk action. The new film seems to be heavier on the action
side, so besides giving Hulk a chance to actually smash something (a
car, a building, anything!), allow Hulk to discuss his passion for
smashing. He is actually quite an aficionado on the subject: "Hulk
Smash!" is his catchphrase, after all.
Part of the problem with
Hulk, Hollywood, is reconciling the fact that he's both a monster and a
superhero. (Most of the public still thinks of him as a villain. It
doesn't help that he routinely battles other superheroes in the comics,
like Superman.)
You've pretty much failed at making a good Hulk monster movie, so maybe
try sticking with the superhero angle. Hulk's role in The Avengers
history, as the catalyst that brings the superhero team together, could
make for an interesting cameo when that film finally rolls out.
But if all else fails, just leave the mutant dogs out of it.
Hulk smash,
Nick Nadel
Nick Nadel has written for The Huffington Post, VH1, The Onion,
Toyfare Magazine, and HBO's ThisJustIn.com. He misses the days when Hulk's alter ego was "David" Banner.
Read More