X-Files 2 Gets Title, Wants to Reconcile Faith and Science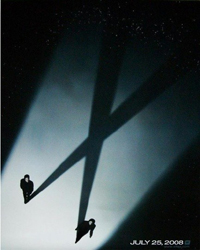 CNN, your source for all the latest Science Fiction news, broke the story yesterday that the second X-Files movie (after 1998's The X-Files: Fight The Future ), will be titled The X-Files: I Want To Believe.
According to the article:
"It's a natural title," Chris Carter said Tuesday during a break from editing the film. "It's a story that involves the difficulties in mediating faith and science. 'I Want to Believe.' It really does suggest Mulder's struggle with his faith."
Those of you who are fans of the show will remember that the phrase "I Want To Believe" featured prominently on a poster in Fox Mulder's (David Duchovny's) office at the FBI. The phrase referred to a blurry picture of a UFO, and the Mulder's belief that aliens existed.
Yet, there are two extraordinarily confusing things about this title.
Carter does state that the movie deals with Mulder's struggle with
faith, as mentioned above. Yet over the course of nine seasons of the
show, the characters encountered aliens. Aliens kidnapped them. They
fought aliens. And multiple governmental figures and agencies confirmed
that there was a massive alien conspiracy at work. Yet Mulder is still
struggling with his faith? That's like seeing a sandwich, and not being
sure if there's a sandwich actually are, even after you've eaten the
sandwich.
Although, I guess, if you've eaten the sandwich, how could you ever prove it was there in the first place? Crumbs? Those could have come from anywhere.
The second, even more confusing point in regards to the title, is that the movie will not
have to do with the massive alien conspiracy that arched over the
series, but instead will fit under the show's other contribution to
genre television, the "Monster of the Week" story.
So both the reasoning for the phrase, and the reference for the
phrase will not be in the movie, but according to Carter, it's the
natural title. Either someone (Carter) is pulling the wool over our
eyes, or someone (Carter) is making a massive mistake.
Read More