Will the Iron Man Hype Drive Tony Stark to Drink?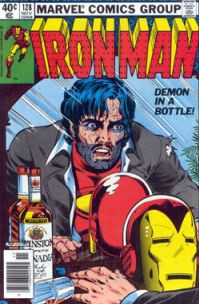 The top story on the Onion News Network this week hits the Iron Man hype square on its (shell) head. Will the film measure up to its many killer trailers? Or to the new footage that has just surfaced online? Here's a better question: Will Tony Stark crack under all the pressure and run to his cherished bottle of whiskey?
All kidding aside, its safe to say that Iron Man will make gobs of money. (At least until Kingdom of the Crystal Skull shows up). Early reviews are strong, with much credit going to Robert Downey Jr.'s performance; director Jon Favreau is already talking sequel. Still, it begs the question: How will Favreau and company continue to keep the public interested in a lead character who is basically a vain, tipsy variation on Bruce Wayne? Sure, sure, he builds a cool suit and becomes a hero. But if Iron Man is going to continue as a franchise the creative team will have to confront a villain that is far more powerful (and a much tougher sell to audiences) than the Iron Monger. Namely, alcoholism.
Yes, superheroes have already tackled a variety of demons on film.
(Some, like Hellboy, tackle them literally.) But Peter Parker's
struggles with responsibility and Batman's parental issues are cake
compared to what the Iron Man creative team will be getting
into. We've yet to see an onscreen hero deal with the all too real
demon of addiction, and there is really no getting around it with Iron
Man. (After all, the title of his most famous comic book story is
"Demon in a Bottle.") Both Favreau and Downey have discussed exploring
Tony Stark's alcoholism in the sequel. But will they take it as far as
the comics and turn Stark into a drunken, homeless vagabond? (The added
irony of Downey's casting adds resonance to the characters tortured
backstory, but could also further alienate mainstream audiences once the
serious subject matter kicks in.)
While the first film will
certainly be heavier on the action than on the boozing the question
remains: Will audiences be turned off by a hero
with a very human weakness? (Not to mention one who also suffers from a
weak heart.) Only time will tell, but here's hoping that
Favreau and the rest of the Iron Man crew stick to their guns and refuse to soft-pedal the darkness underneath Iron Man's shiny metal armor.
Read More