Will Mulder and Scully Lock Lips in The X-Files: I Want to Believe?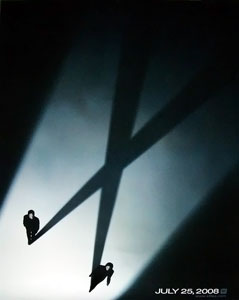 After months of secrecy (and no title), X-Files guru Chris Carter, along with cowriter-producer Frank Spotnitz, finally gave fans a peek behind the curtain of the much-anticipated film sequel at the New York Comic Con. Confirming online rumors, Carter and Spotnitz revealed that The X-Files: I Want to Believe picks up six years after the end of the series and features a standalone, horror-heavy story. "It's not quite like anything you've seen before," Spotnitz told the assembled crowd. (Sorry conspiracy fans, you'll have to wait for the next installment.)
The duo revealed that Amanda Peet and rapper Xzibit would be costarring as FBI agents and that comedic actor Billy Connolly will be playing a major dramatic role. Carter also stressed that the new film is very much about Mulder and Scully's personal relationship. He also discussed the mystery shrouding the film, saying that in this day and age of Internet spoilers, he would rather that fans be surprised when the film opens on July 25.
Fielding questions from the audience, Carter revealed that he got the
idea for the title from the poster that hangs on the wall of Agent Fox
Mulder's office. He also said the new film "feels like its taking place
right now" and reflects the "scary time" that we live in. Carter
responded to rumors that a steamy love scene between Mulder and Scully
was cut from the film saying, "It's in there." (When asked if he was
inspired by Internet fan fiction for the Mulder/Scully love scene
Carter joked, "This is a PG-13 movie.")
Carter and Spotnitz both
mentioned how moved they were by the outpouring of love that fans still
show for the series. When asked if he would ever bring The X-Files
back to television, Carter said he couldn't imagine doing it without
Gillian Anderson and David Duchovny, but Spotnitz did reveal that
DC/Wildstorm had just acquired the X-Files license and would be
publishing new comic books. And as to whether old favorites from the
series would be returning for the film, Carter adopted the "deny
everything" stance when discussing the Lone Gunman… but added that
Mitch Pileggi (Walter Skinner) is "in that steamy love scene between
Mulder and Scully."
Read More