Death Hunt's Albert Johnson or The Fugitive's Richard Kimble… Who's Got Your Sympathies?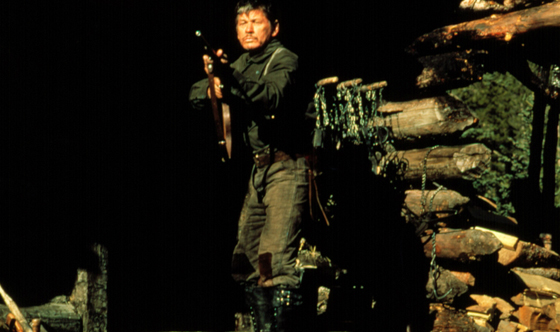 One man tried to protect his dog, the other tried to protect his wife. Both, were marked guilty for murder though both were innocent. Death Hunt's Albert Johnson and The Fugitive 's Dr. Richard Kimble had no choice but to run from the law. Which man did it better?
Escape Tactics
• Albert Johnson (Charles Bronson): Forced to run from his fortified cabin when Sgt. Millen (Lee Marvin) instructs his right hand man to toss a bundle of dynamite onto the roof and blow the house to bits.
• Richard Kimble (Harrison Ford): Freed to run when a fellow inmate tries to escape and causes a bus to flip over and roll onto a train track.
Both events are dangerous, suspenseful, and seemingly impossible to survive. However, Johnson not only survives the huge explosion and massive fireball without getting burned, but he also comes out with a sawed-off shotgun and a revolver firing. He fought for his freedom before he ran.
Round 1 Results
Albert Johnson
Survival Techniques
• Johnson: Ran with the caribou, wore his snowshoes backwards, and survived in the Arctic during the dead of winter.
• Kimble: Blended into the St. Patrick's Day parade, hid in a basement apartment, and shaved his beard.
Kimble's miracle jump off the dam at gunpoint is impressive enough to edge him into the lead.
Round 2 Results
Richard Kimble
Fact vs. Fiction
Though both Johnson and Kimble were excellent fugitives, Albert Johnson was a real man who led Canadian Mounties on a three-week-long pursuit. He crossed the Richardson Mountains in the middle of winter and made it 150 miles before being surrounded and fatally shot.
Winner
Albert Johnson
For a complete schedule of this movie on AMC, click here.
To review this movie, click here.
Read More