Weird Tales' 85th Anniversary Makeover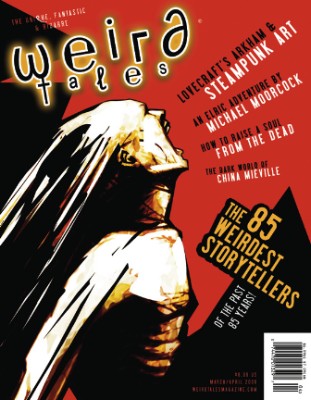 Of all the panels at this past weekend's New York Comic Con, the most earnest and most historically fascinating was the Weird Tales discussion. Deep in the bowels of the Javits Convention Center, a motley crew of fans and curiosity seekers were privy to stories about the magazine's first eight decades. Armed with a slideshow of the best of those lurid, monster-filled covers featuring semi-nude women, editorial director Stephen H. Segal talked with insight about the magazine that launched the careers of H. P. Lovecraft and Robert E. Howard.
Weird Tales even was the first magazine to publish the fiction of Tennessee Williams, when Williams was just 17. "It was the first magazine devoted to fantasy, horror and science fiction. In fact, it was launched three years before the phrase 'science fiction' was even invented," said Segal.
In the beginning, Weird Tales provided a forum for the best
fantasy writers, illustrators and fans to get to know each other and
their burgeoning subgenre. After all, said Segal, "H. P. Lovecraft was
the first to blend the horrific with science fiction to create this
idea of cosmic horror. There would be no Aliens franchise without Lovecraft." Now, with recent redesign and some hip, new writers, Weird Tales is poised to shake up the world of horror, scifi and fantasy once again.
With hot, new illustrators like Molly Crabapple
and deep profiles by Elizabeth Genco, the publication is showing its
mettle in the age of Web 2.0. Offered Crabapple, "I'm basically known
for what I call saucy Victoriana. I take all the clothing and weird
artificial clothing and strange machines of the Victorian Era and I
couple them with a burlesque sensibility." The former Suicide Girl is
just one of the new breed of writers and artists who populate the
magazine pages. "I have the opportunity to take this artistic sensibility and
combine it with these very creative stories to illustrate tales of
drunken mermaids and selling your soul to the devil," she says. Howard and
Lovecraft would have approved.
Read More