Upcoming SciFi Games to Rock Your World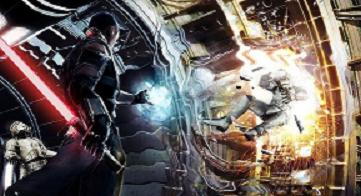 Each year, the video game industry gets bigger and bigger. With game and hardware sales jumping 34 percent in February to earn a whopping $1.33 billion, the business seems to be recession proof. SciFi games like Halo and Mass Effect are big parts of the video game behemoth. But what's coming this summer?
• Iron Man (Sega): The movie trailer for Iron Man looks surprisingly robust and so does the console offering for Microsoft's Xbox 360. The best part? Robert Downey, Jr. doing the voice over, flies into the skies to battle super villains and fighter jets.
• The Incredible Hulk (Sega): If you like your Hulk menacing and not cartoon-y, you'll appreciate the latest Hulk game. Based on the Ed Norton movie, you'll stomp through New York City, wreaking havoc as you battle over-the-top enemies. Just wait until you play in rage mode.
• Star Wars:The Force Unleashed (LucasArts, pictured): There have been dozens of Stars Wars games over the years. But this one's all about the magical SciFi powers of the Force. The geniuses at LucasArts have studied physics to give you the most realistic yet wild space cowboy fantasy yet.
Read More