Tribeca Film Festival – Redbelt's David Mamet Explains the Appeal of Jiu-Jitsu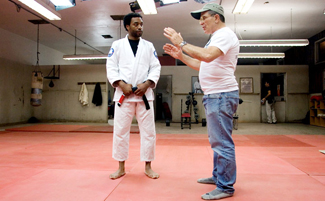 It was not the sport, but the people behind the sport that inspired David Mamet to write and direct his latest film, Redbelt.
"I've studied Jiu-Jitsu for many years, but what really interested me were the people who decided to study it — writers like myself, women who want to learn to protect themselves, officers of special forces, stunt guys," said the writer-director. "I thought it's a spectacular world to reach out to and write about."
Convincing Sony Pictures Classics to take on a film about Jiu-Jitsu was not as hard as he expected. "I called them up, told them the idea and they said, 'OK.' It was great," Mamet recalled.
In typical Tribeca Film Festival fashion, last night's premiere brought out a mix of people from different walks of life, including Steve Martin, Salman Rushdie, and magician (and Redbelt co-star) Ricky Jay, all of whom mingled at the after-party in the VIP area of club Honey. (Mamet came late to the intimate affair, but received warm applause upon his arrival.)
Both Mamet and the film's star Chiwetel Ejiofor said they were excited when Robert De Niro and Jane Rosenthal asked them to premiere the film at the festival, but admitted that they would not be attending any of the festivities besides their own.
"I can't," Ejiofor said. "I am shooting in London right now, so I have to leave first thing tomorrow morning."
Mamet's explanation was a bit more succinct: "I've got to go home and go to work."
Read More