Tribeca Film Festival – Baby Mama Premieres, Matthew Modine, Clive Owen and Morgan Spurlock to Appear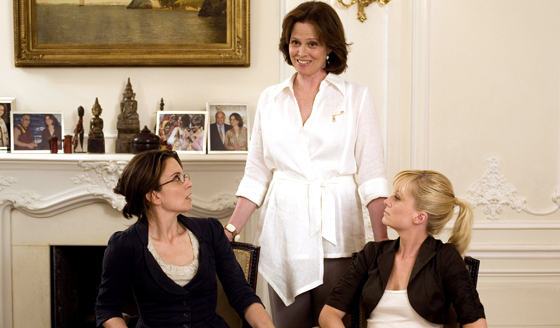 Baby Mama Premieres, Matthew Modine, Clive Owen and Morgan Spurlock to Appear" width="560″/>

The programming changes year to year (this year brings about 25% fewer feature films) but the presence of big names at the Tribeca Film Festival remains constant.
Guests can expect red carpet arrivals for Baby Mama and Speed Racer, an assemblage of Michael Jackson look-alikes at Thriller Night, and a chance to ask Clive Owen questions at the Apple store. While critics say Sundance turned its back on the little guy, Tribeca never pretended to be anything but a celebration of film that would
bring as many people as possible to New York City's downtown.
Baby Mama, a Saturday Night Live family affair, starts
things off. "What better way to open this year's festival," said
co-founder Jane Rosenthal, "than with a New York production that brings
together some of the city's most beloved and creative talent." Tina
Fey, Amy Poehler, Sigourney Weaver, producer Lorne Michaels and
first-time director Michael McCullers are expected to attend the world premiere of
this comedy about what happens when two very different women make way
for baby.
The schedule also includes plenty of panels and Q&A's to bring film lovers and filmmakers closer together. Oscar-winning screenwriter Paul Haggis told Entertainment Weekly he hoped Crash and In the Valley of Elah
would make people "walk out of the theater arguing and talking about
what's happening in America." Now fans can find out what his hopes are
for the new Bond film, Quantum of Solace, and why he's writing the script for Ranger's Apprentice with his daughter Alissa.
Among others, Matthew Modine, Clive Owen, Amy Poehler, Isabella
Rossellini, Morgan Spurlock (Super Size Me)
and Beastie Boy-turned-director Adam Yauch are sharing their stories in
daily Filmmaker Talks. Sissy Spacek will discuss her latest film, Lake City, as part of the Behind the Screens series. Athletes and foul-mouthed theater fans will want to see David Mamet's Redbelt, a film about LA's mixed martial arts subculture. Why watch? "Boxing's basically over," Mamet told Fight Game."It's dead."
Animation fans should catch the premiere of Bill Plympton's Idiots and Angels, which has no dialogue. Purists in search of truly "independent" work, will find
satisfaction in Australian writer-director-star Christopher
Weekes' Bitter &
Twisted. Weekes told Time Out his audience will "see what a film looks like
when you have no money, a crew of 15 people and 20 days to shoot something."
The seventh annual Tribeca Film Festival runs through Sunday, May 4.
Read More