Tribeca Film Festival – 2007's Slimmed Down Version Was Heavy With Hollywood Entries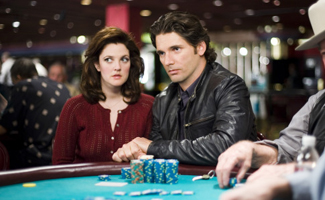 The 2007 edition of the Tribeca Film Festival not only slimmed down — to 159 features and 85 shorts — but also premiered the 2008 Academy Award-winning documentary Taxi to the Dark Side. It was another notch in the festival's belt, particularly it's well-respected non-fiction catalog, which includes Jonestown: The Life and Death of the People's Temple and Jesus Camp. Despite that victory, Tribeca's 2007 edition was highly criticized.
Ticket prices spiked to a record $18; screenings were held well beyond the namesake neighborhood as far out as the outer boroughs. And despite the trimmer slate, the schedule was still jam-packed, perpetuating the criticism that the festival is a place where emerging filmmakers get lost in the shadows of Hollywood: Who paid attention to Taxi to the Dark Side when they could go to see Spider-Man 3 or, even the Drew Barrymore and Eric Bana romance Lucky You.
And amid the razzle dazzle, 33 titles
that had their world premiere at Tribeca last year were acquired for
distribution, including the aforementioned Taxi, Planet B-Boy, Autism: The Musical, The Hammer and The Grand. With success stories like that, the festival is not without its defenders. Said IFC Entertainment president Jonathan Sehring in Variety, "I was very skeptical
the first two years. Initially, we didn't supply movies to the
festival, and now we look at it as critical to launching our movies."
Edie
Falco on the scene last year as a juror, had a simpler explanation for
the festival's appeal, "It's all kinds of great movies that I don't get
to see under normal
circumstances," Falco told USA Today. "And I live in Tribeca, so it's special."
Read More