Tribeca Film Festival – Marisa Tomei Plays Poker, Nabs a Part in War, Inc.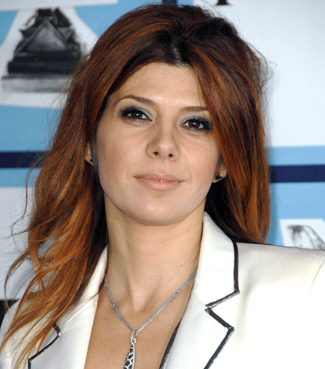 It was a poker party at producer Joe Roth's house that led to Marisa Tomei's involvement with War, Inc. "I actually met [the film's writers] John Cusack, Mark Leyner and Jeremy Pikser all in the same night at the party, so it pays to be a rogue," Tomei joked during the film's Tribeca Film Festival junket on Monday.
A political satire set in the fictional country of Turaqistan, War, Inc. also features Dan Akroryd as a CEO who hires a troubled hit man (Cusack) to kill the Middle Eastern oil minister, played by Omar Sharif. Hilary Duff, Ben Kingsley and Joan Cusack also star in the film, which arrives in theaters May 23.
To play the part of a left-wing reporter who is investigating the
decline of civilized society in Turaqistan, the actress researched key
real-life writers and activists. "John had me talk to Naomi Klein and
read her books. Also I am friendly with Howard Zinn and Anthony Arnove,
so I talked to them about their activism."
"I love scripts that
have a high level of good, witty banter, and these
guys used their incredible imaginations to pick and choose the right
bits of absurdity based on our reality to write this screenplay," said
Tomei. "It actually was on my wish list to do something political," she
continued, "so when they approached me for the part, I thought that it
was perfect for me."
Read More