Tribeca Film Festival – Horror Selections Let You Meet the Vampire Next Door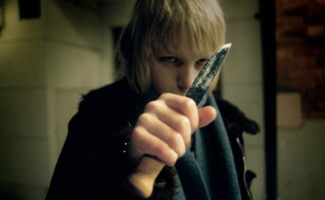 People are lining up in the rain to get seats for the Tribeca Film Festival's remaining features, including its horror selections, many of which will screen through the coming weekend.
Some suggestions: The Wild Man of the Navidad is a bizarre "'70s-style B movie" about a creature stalking the Texan wilderness and Dying Breed, in which a young posse searces for supposedly-extinct tigers in the Australian outback, both promise upsetting, old-school scares. Other films have a deceptively lighter touch — Jeff Fisher's Killer Movie brings laughs, groans, and screams from the set of a reality show gone awry, The Cottage puts the screws to a classic hostage situation by uniting captive and captors against a fearsome enemy, and Baghead spins a couple's home movies out of control when they find themselves starring in a horror flick they didn't mean to make.
Of course the one that everyone's flocking to see is Let the Right One In
(pictured), a Swedish film in which an angsty pre-teen meets the
vampire next door. Availability is currently limited to rush tickets,
so unless that rain I mentioned sounds fun to you, you'd better hope
this one gets picked up for an American release. If you can't get in, consider the documentary Under Our Skin
instead. It's a horror flick or a whole different sort; ostensibly
about the epidemic of Lyme's disease, the monsters are the insurance
companies that have swept the news — and possible treatment — under
the rug.
Read More