The Thing Reminds Us to Trust No One; Not Even E.T.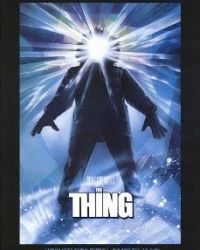 The war between good aliens and bad aliens boiled over in the summer of 1982 when Steven Spielberg's E.T. and John Carpenter's The Thing both touched down within two weeks of each other. Cuddly E.T. won the battle (in the box office) but not the war: 25 years later, The Thing is considered a taut special F/X masterpiece, while E.T. staggers under the weight of its treacly sentimentality. And which film's philosophy holds sway? E.T. is exactly the sort of pro-alien propaganda that those nasty monsters like the titular Thing would want humans to swallow prior to a full-scale invasion. Look at the films side by side and you'll see what I mean.
Carpenter's movie is fearfully realistic as it assesses the threat to humanity. Its message boils down to this: An alien life form could destroy humans without meaning to. The monster in E.T. spins this idea 180 degrees: Aliens just want to smell your flowers and eat your candy.
So who can we trust? Is it possible Spielberg is one of them? What about critics like Roger Ebert who tried to silence The Thing's dangerous truths with reviews calling it "just a geek show, a gross-out movie in which teenagers can dare one another to watch the screen"? I've never met any aliens (that I know of) and of course I think everyone's entitled to their own taste in film. But in my book, anyone
who doesn't freak out over The Thing is a suspect — and anyone who still favors E.T. is just a pawn of the vast intergalactic conspiracy.
Put yourself to the test this Friday, Apr. 11 at 10:30 PM | 9:30C. To see the complete AMC schedule for The Thing, click here.
Related: Who is the coolest alien?

Read More