The She-Creature: One Unfriendly Lobster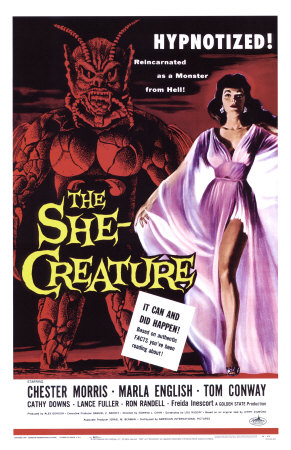 An enjoyable, B-movie romp, 1956's The She-Creature took advantage of two crazes: The success of The Creature from the Black Lagoon (which preceded it by two years) and hypnotism. Riffing on the stereotype of a mad scientist, it's an evil hypnotist, Dr. Carlo Lombardi, who's up to no good. Lombardi casts a spell on a woman who regresses into a murderous monster.
But even if the storyline was familiar, this "monster from hell" (as the marketing materials dubbed her) really stands out when it comes to wardrobe. Crafted by make-up master Paul Blaisdell ( Day the World Ended and Invasion of the Saucer Men), the She Creature's costume is a cacophony of devil horns, vampire teeth, lobster claws and a crustacean-like exoskeleton reminiscent of the Thing from the Fantastic Four comic book series. How do you tell that she's not a he? She's got quite the bosom… craggy as it may be.
Catch the She Creature Saturday, April 5 @ 4:30 AM | 3:30C.
Read More