The Class, Classics and Critics at AFI Dallas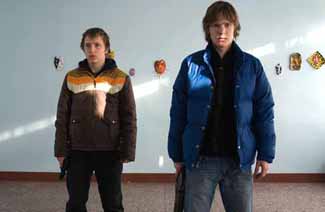 Friday afternoon marked the screening of the award-winning Estonian film, The Class. A brutally honest look at violence in high school, it is the debut film from director Ilmar Raag. (The Class is screening in competition and eligible for the Target cash award.) Lili Pilt from the Estonian Film Institute accompanied the film from Tallinn to Dallas.
Pilt explained the genesis of the film, "The director was going to school in Ohio when the Columbine shooting occurred and he was very upset by this event, as we all were," she said. "When he got back to Estonia, he decided to tackle the subject head on. All the actors in the film were high school kids that had helped him develop the story."
Post-screening, dinner was held at Hook, Line and Sinker, a locals' favorite near the Magnolia Theatre. Also in attendance were MC Frontalot (aka Damien Hess) from Nerdcore Rising and producer-director Michael Addis from Heckler, which screened tonight to a sold-out crowd. Brash and surreal, Heckler is a documentary about the loss of the art of criticism in the Internet era. Not surprisingly, the discussion at dinner was a recent The New York Times article about the death of criticism.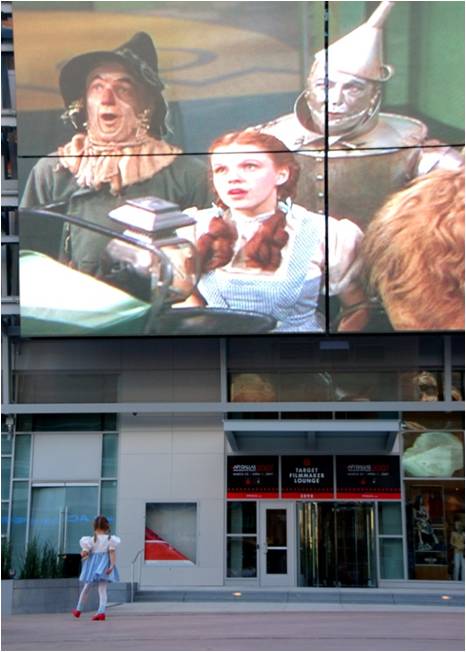 Today, Addis will be on a panel, "Listening to the Crowd: How Much Does
the Audience Influence the Artist's Voice" with his friend
singer-songwriter, Jewel, who is featured in the doc.
An additional highlight of the evening was the screening of The Wizard of Oz with live symphony accompaniment by the Dallas Symphony Orchestra, at the Myerson Symphony Center.
Shaz Bennett is the associate director of programming at AFI FEST
(Second photo: MC Frontalot from Nerdcore Rising, Lili Pilt from The Class, Brandon from the Frontalot Band, Michael Addis from Heckler outside Hook Line and Sinker in Dallas, TX.)
(Bottom photo: A little girl dressed as Dorothy watches the film on the outdoor screen at Victory Park.)
Read More