If Studio Owners Don't Care About Movies, What Happens Next?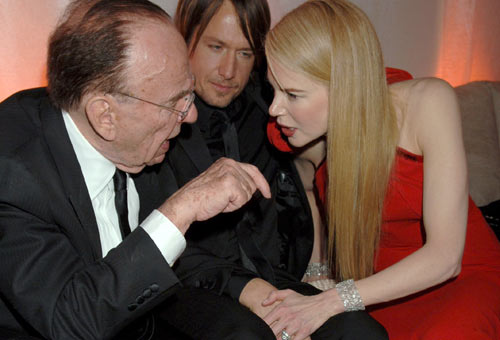 Hollywood is in the middle of another contract negotiation that could bring movie and show production to a halt again if it goes awry. On the one side are Hollywood actors, represented by the Screen Actors Guild; on the other side is management — represented ultimately by the titans of industry who own the studios, such as GE Chairman and CEO Jeffrey Immelt.
Hollywood actors and SAG passionately care about the deal they will strike. But is anyone listening on the management side of the negotiating table? It may be that for the titans of industry, the immediate fate of the movie business is not a top concern. Then what happens?
"This is the opposite of 1920 when there was too much [management] attention on movies — now there's no attention at all," says Shootout co-host Peter Bart.
[Photo by Richard Young / Rex USA, courtesy Everett Collection. Rupert Murdoch, Keith Urban and Nicole Kidman 79th Annual Academy Awards Vanity Fair Party, Los Angeles. Feb 25, 2007.]
"You see a certain ineptitude on the
part of management," says Bart. "The actors are here and voicing their
demands but you get the feeling management is a little spread out and
disorganized."
Unlike years past, when the studios were
standalone businesses, they are now part of larger conglomerates with
diverse and varied interests that go far beyond movies. NBC Universal, for example, is
part of General Electric, which makes nuclear reactors, hospital
scrubs, jet engines and waffle makers. Sony Pictures is part of Sony,
headed by Howard Stringer. His concerns are as much technology as
content: Sony is the developer of DVD, CD and Blu-Ray technologies.
"These
folks have different agendas than just worrying about how some actors
might want to vote," says Shootout co-host Peter Guber (who also used
to head Sony Pictures).
Other industry titans include Sumner
Redstone, whose Viacom and CBS companies are in a diverse set of media
businesses, and Rupert Murdoch whose News Corp, besides films and tv
production, is involved in newspapers, magazines,
satellites, cable TV and MySpace. Murdoch, says Bart, "is interested
in power. That's
what motivates him, and Sumner? He's interested in more power."
Guber notes, "None of these people are that interested in the movie business which is
evidenced by — not only are they not too prepared in terms of
negotiations — they don't really care that much…"
Besides
the studio-owners having other and larger financial interests outside
movies, Guber explains that each new movie is like starting up a brand
new business and taking on all the risks that entails. Studio owners
may be more interested in businesses that have more continuity, and
this includes even internet concerns like MySpace. News Corp purchased
it for $500 million and it's "now worth $10 billion, " according to Guber.
"That's better than any movie."
Do Hollywood corporate chiefs care enough about the movies? Comments open below.
Read More