Tezuka's The Amazing Three – A Lost Classic From the Father of Anime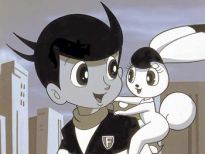 Osamu Tezuka is often called the "father of Japanese animation," but he could just as easily be credited as the father of sci-fi animation. (You can spot the DNA of Astro Boy and Gigantor in everything from Akira to The Iron Giant .) Now Cartoon Brew has uncovered one of his most obscure creations, the loopy The Amazing Three. (You can view the zany retro intro here.)
A product of its time in the best possible sense, The Amazing Three boasts a premise that would give even Adult Swim-addled stoners pause: Three aliens disguised as a rabbit, a duck, and a horse must decide if they should blow up Earth, or save it. Like all of Tezuka's shows, the animation perfectly captures the stylish artwork from his beloved mangas. And you can't beat that peppy, Astro Boy-esque theme song. (Cartoon Brew has also uncovered some original negatives from The Amazing Three which are for sale on eBay in case you've got an extra $24,000 to throw around.)
With a CGI Astro Boy film in
the works for next year, now is a great time to discover the work of
Tezuka. Collections of his manga (covering everything from robot boys
to the life of the Buddha) are currently available in English-language reprints. (They'll also soon be available online through
a Japanese digital bookseller.) The blend of action, humor, and social
conciousness in Tezuka's work calls to mind the work being produced
today by anime great Hayao Miyazaki and Studio Ghibli. Plus, you'd be hard pressed to find zanier sci-fi concepts than those that sprung from the mind of Tezuka.
Read More