Superman Overpowers Fellow Superheroes at New York Comic Con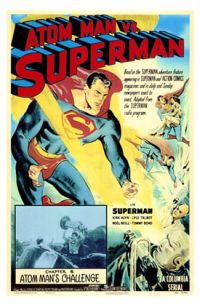 As part of this year's New York Comic Con, author and historian Eddy Friedfeld showcased a collection of footage that showed just how far the superhero genre has come.
While other superheroes were touched upon, a large focus of the panel was on Superman, the granddaddy of them all. Friedfeld unspooled footage from the still breathtaking Fleischer Brothers cartoons to the less visually stunning, though certainly exciting, Kirk Alyn film serials of the 1940s. Friedfeld noted that due to the small budget, and because kids didn't really care, the live action Superman would suddenly change into an animated character upon taking to the sky. Other highlights: The brief scene of Christopher Reeve stopping a burglar in the Richard Donnor film reminded the audience of the sly wit the actor brought to the role; a clip of George Reeves' costumed cameo on I Love Lucy, where he is oddly referred to as "Superman" the entire time.
The current footage veered from Hellboy to Buffy the Vampire Slayer, an odd choice despite its pulpy tone. (And also, it isn't a movie.) And, of course, the Big Blue appeared once again in deleted scenes from Superman Returns, even though most fans in attendance likely already own the DVD. But the classic clips Friedfeld showcased provided a fun glimpse back to the days before cities of sin and Hulks made from CGI.
Read More