Starship Troopers 3 Q&A – Johnny Rico and the Big Bugs Are Back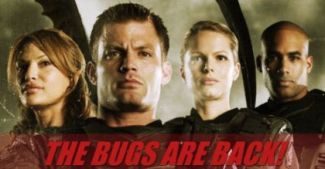 Starship Troopers fans rejoice: Johnny Rico is back. With buzz building for Starship Troopers 3: Marauder (coming to DVD in July) we caught up with Casper Van Dien, new recruit Jolene Blalock and writer/director Ed Neumeier at the New York Comic Con to discuss the return of Johnny, satire during wartime, and, of course, big scary bugs.
Q: How did the reunion come about?
Ed: I remember seeing Casper come through the door when we were casting the first Starship Troopers. He came in, and I had a rifle on my desk. He did a whole routine with it, which I guess he learned in military school. We've been friends ever since. So when Sony came to me and said they wanted to do another one, I said, "I'll only do it if we can get Casper."
Q: Was the studio worried about how the military satire of Marauder would go over in our current political climate?
Ed: No. I warned Sony that I wanted to do a satire of what's been going on in the last 10 years. And they said go. It's what I like to do, if you look at Robocop and the other things I've done, and Casper is really into it as well.
Q: Jolene, you play a new character, Captain Lola Beck. Was the character a big change for you after Enterprise?
Jolene: It was, because T'Pol was so reserved and didn't really show a lot of emotion. When you lay out your career and the types of roles you want to do, this is right in the meat of what you love, because you're going to have fun. These are the type of movies that are just a blast to do.
Q: Can we expect any new bugs for this outing?
Ed: There are a couple different bugs. There is what we call the
"scorpion class pulse warrior." It's sort of like a machine gun,
because there are trenches in this war, and for trenches, you need
machine guns. There's a "bombardment bug" that comes in, opens up, and
explodes. And then there's a really big bug at the end.
Casper: You'll have to watch and see for that one. And there are still warrior bugs. It pays tribute to the original Starship Troopers.
Ed: We try to put a military veracity to these things. My feeling is
that the first film is kind of World War II, the second one Korea, and
this one is sort of Vietnam.
Q: Do you still take inspiration from the Robert Heinlein novel?
Ed: Well, I think I'm very aware of Heinlein. The reason we've got
power suits in this one was because I really felt badly about not
having them in the first movie. It's not completely Heinlein, to be
clear, and I'm not sure if the true fans of Heinlein will be happy, but
I believe I'm being true to him, and to what he liked
about science fiction, which was ideas.
Casper: This one probably has more of the book in it than any of the
others. But it's still Ed's world. He's got an interesting mind.
Jolene: And slightly twisted. He can take words, and they will be
read and said one way, but you're going to hear something else.
Q: So can we expect a fourth installment?
Ed: I hope so. If we could do another, that would be great. Because Starship Troopers is always a comment on what is happening now.
Read More