Sneak Peek of Hellboy's Golden Army at New York Comic Con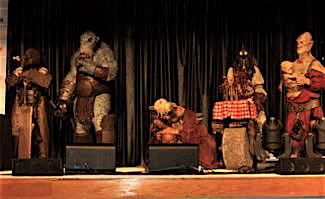 Guillermo del Toro and the cast of the Hellboy II: The Golden Army descended on New York Comic Con this past weekend, and they brought friends. The biggest surprise of the Hellboy II panel was the unveiling of several costumed characters from the upcoming sequel. The creatures, all created with practical effects, stood watch as del Toro (plus cast members Ron Perlman, Selma Blair, Doug Jones, Luke Goss and Hellboy creator Mike Mignola) discussed the continuation of their surprise hit franchise.
Del Toro treated the audience to a "sizzle reel" of clips from the films, many of which were still unfinished. He also revealed that while the budget was higher for the second installment ($85 million), several characters and sequences ended up on the cutting room floor. (He did promise to post images of a three-headed dog character that was excised from the film on the Hellboy movie blog.) And in a move that will likely divide fans straight down the middle, del Toro revealed that Family Guy creator Seth MacFarlane will be providing the voice of new B.P.R.D. member Johann Kraus.
The panel quickly turned into a lively audience Q&A, with Doug
Jones answering a fan's question about his role as the Silver Surfer.
(He hopes to be involved in a possible J. Michael Straczynski-penned
spin-off, though nothing has been confirmed.) Del Toro also addressed
the elephant in the room by promising that an announcement would be
come soon about The Hobbit. He also discussed his plans to direct HP Lovecraft's At the Mountains of Madness (still needs funding) as well as smaller, more personal films. (One such project, Saturn and the End of Days, has already piqued curiousity with its perplexing plotline.)
Hellboy fans can take heart that while the franchise has deviated
quite a bit from Mike Mignola's original vision, it is still very
much Guillermo del Toro's baby. (Mignola himself addressed this in the
panel, saying about his characters, "At this point, it almost feels
like they're Guillermo's.") Hellboy could be in much worse hands.
Read More