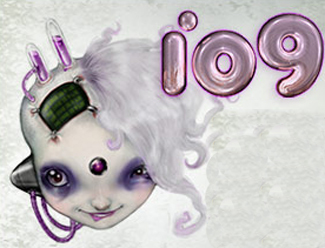 Before there was an Internet, it was an idea out of science fiction. So it's only natural that things have come around the other way, and now, the Internet is all about scifi. At the forefront of this movement is the insanely detailed and hilarious blog, io9.
The blog started as a vague idea in the head of io9 editor-in-chief, Annalee Newitz, who, at the time, was blogging for Wired. "The folks at Gawker Media contacted me about 'doing something,'" said Newitz. "I actually had no idea what they had in mind, but after I talked to Nick Denton about what he was looking for in a scifi blog, I was really excited. He was looking for something cool and futuristic rather than dweeby fanboy stuff."
From the beginning, io9 was a hit, with popular posts ranging from
"20 Science Fiction Books That Will Change Your Life," to a chart about bad physics in scifi movies. The site currently receives over 130,000 viewers a day, and the numbers are growing.
"We want to reveal the science fictional side of everyday life —
give people a glimpse of the future in the present day," said Newitz.
"I suppose you could say about half our job is to entertain people who
want to escape their humdrum lives, and the other half is to get them
excited about doing stuff in real life to make the future an awesome
place."
That isn't to say that work at io9 isn't fraught with controversy.
Despite insisting that the blog isn't about the "dweeby fanboy stuff,"
their readership gets up in arms anytime something bad is said about Star Trek,
or any other beloved franchise. And even Newitz herself isn't immune to
a little fanboyism now and again: "I think the most exciting part about
working for the site has been having an excuse to interview my favorite
science fiction writers. I actually had this devious plan that as soon
as we launched and looked really cool, I'd email Ken MacLeod, Iain M.
Banks, and Karen Joy Fowler and ask to interview them," said Newitz. "I
mean, I had always wanted to talk to them and now I could do it without
seeming like just a fan, or a stalker."
Read More