Site of the Week – Galacticast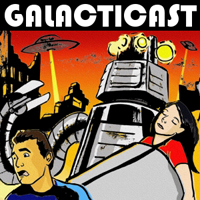 Since May of 2006, Canadians Casey McKinnon and Rudy Jahchan have been skewering sci-fi, fantasy, and horror with their enormously popular video podcast, Galacticast. The weekly show receives over a quarter of a million viewers each month, and has been featured in everything from The Hollywood Reporter to the BBC. It has even drawn raves from cast members of its namesake, Battlestar Galactica.
"Originally it was going to be a variety channel covering all aspects of sci-fi, horror, fantasy, etc.," says co-producer Jahchan. "But it quickly became apparent to us that we loved the parodies, and so did our fans. We switched to comedy exclusively, and here we are."
The work flow is split evenly between the pair, with both generating
ideas for the episodes, Jahchan writing and directing, McKinnon taking
lead on the editing, and both taking care of the special effects. They
also often call on friends and fellow actors to help round out the
casts, with McKinnon and Jahchan usually grabbing the lead roles with
their pitch perfect impersonations.
The special effects and production work, though, is what really sets Galacticast apart from the pack. Their parody of Battlestar Galactica's
third season, a collaboration with the similarly minded BSGcast, drew
rave reviews from both fans, and the show's stars, many of whom
believed they were actually on the set of Battlestar Galactica.
The entire episode was actually filmed in a converted room of the
apartment McKinnon and Jahchan shared, which houses lights, and a green
screen created from a roll of fabric.
Although the show is currently on hiatus as they gear up production for a new season, they have a large backlog
of videos to check out, and plan on coming back strong soon. Says
Jahchan, "When
Galacticast returns, it will be better then ever; we're looking
to be more cinematic and have a tighter format. Stay tuned."
As a preview, check out their parody video "Heat Fozzy," which has racked up over a million hits on YouTube.
Read More