Site of the Week: Newsarama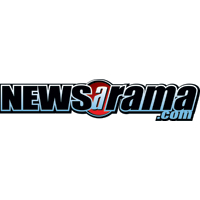 With the ascendancy of the superhero movie at the box office, and an ever-increasing number of nerd-themed programs on television, one could say that the age of the Nu-Geek is upon us. With any trend comes the people who report on that trend, and without Newsarama, none of these websites, or even the more "legitimate" media, would know how to report on the phenomenon. [Disclosure: I host one of the video
features]
Newsarama was started in 1995 by Michael Doran as a newsletter compiling various bits of comic book news from around the Net onto one, central Prodigy message board (yes, we're looking that far back in Internet history). Doran was soon joined by journalist Matt Brady, and together, the two of them developed what would eventually become the Newsarama readers know today.
Updated more than a dozen times daily, the site is a resource
of comic book news on the Internet. If a creator has an announcement to
make, or if you're looking for the latest pages from an upcoming book,
you'll find them first on Newsarama.
Site co-founder Mike Doran, has a unique perspective on this
particular trajectory: "If you had told me then that co-running comic
book news website would be my career path, I'd have told you that you
were crazy, particularly considering Newsarama started at perhaps the
lowest ebb for comic book sales in the industry's history. I think
Newsarama's growth goes to show the pop culture phenomena comics have
become over the last decade, as well as (I hope) how a little hard work
can go a long way."
The site's evolution continues. Last year, it was purchased by Imaginova, owners of Space.com. "While the acquisition
struck some people in our community as a little odd at first, Imaginova
appeals to what the company calls the 'intellectually curious,'" assures
Doran. As the discussions continued, it became clearer that
teaming up made sense. Under Imaginova, Newsarama has added a
daily blog, and video features to their rapidly expanding, and highly popular message board,
and main news page. Though they can't talk much about it yet, the comic
news giant will be undergoing a major redesign in the next few months
to improve the flow of the site, and once again, take the site far
beyond it's humble beginnings.
Says Doran, "It feels like Newsarama is just getting going. The last
few months feel like the build-up to things we might not even have
envisioned just a few years ago, not even mentioning the humble
Prodigy/Usenet days."
Read More